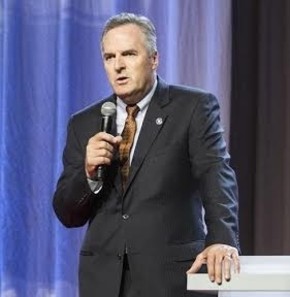 Every life matters, but Val Hale's new book, "Living a Life That Matters: 7 Keys for Purposeful Living", shows readers how to make their lives more impactful, fulfilling and joyful by utilizing seven simple, yet time-proven, principles.
Hale, executive director of the Utah Governor's Office of Economic Development and former athletic director at Brigham Young University and vice president at Utah Valley University, reaches into his extensive reservoir of experience to share personal stories from his life to teach important lessons and ideas.
Buy:
http://www.amazon.com/Living-Life-That-Matters-Purposeful/dp/146211704X
"This book was a lifetime in the writing," Hale says. "I have had the opportunity to work with many people throughout my career. I have seen and experienced the good, the bad and the ugly. The seven keys are those things I have observed in people whose lives have been most impactful and fulfilling and joy. After prodding by a few friends, I finally decided to share the keys in this book."
The seven keys highlighted by Hale include the following: 1) Be a doer, not a spectator; 2) Cultivate meaningful relationships; 3) Make a difference in others' lives; 4) Get active and stay active; 5) Love your work; 6) Be a lifelong learner; and 7) Seek spiritual balance. Hale utilizes many personal stories to illustrate how the keys have impacted his life and others'.
Popular Forbes author Cheryl D. Snapp Conner says of the book, "Val Hale's new book, "Living a Life That Matters: 7 Keys for Purposeful Living", is a must-read. Each principle is profound and impactful, and I look forward to applying these principles to business as well. Having known Val Hale for many years as an iconic leader in locations ranging from universities to regional chambers to the helm of GOED Utah, I can attest that he is a living embodiment of the outcomes that these seven keys represent. I will return to this book many times."
Cedar Fort Publishing & Media is publishing the book, which will be available at local bookstores and on Amazon.com.
About the Author
Hale has served since August 2014 as Utah Governor Gary Herbert's economic advisor and head of GOED Utah. Previously, he served two years as President and CEO of the Utah Valley Chamber of Commerce and seven years as a vice president at Utah Valley University. He served 22 years in the athletic department at Brigham Young University, including five years as director of men's athletics. He has twice written popular weekly newspaper columns and has published many articles and a book as a freelance writer. He is a popular speaker and has been involved in many charitable causes. He and his wife, Nancy, have three children and 11 grandchildren.