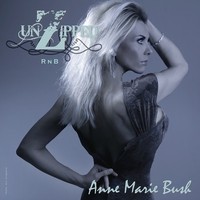 Brash, beautiful, and bold, Anne Marie Bush's "UnZipped" points to the future of pop music. With a commanding voice she rises above the intricate arrangements. Smoky and silky smooth the songs are full of love and optimism. Lyrically the songs explore the concept of relationships, of trying to find that perfect kind of balance. Everything simply works wonders as the songs display a great deal of taste. At times the pieces combine elements of electronica and jazz to dazzling effect.
Sonically Anne Marie Bush explores a great deal of stylistic choices. On the restrained side of things is the fragile work of "Fly" which shows off her very impressive vocals. With a clear debt to dubstep is the languid groove of "2Nite". Anne Marie Bush creates a careful atmosphere with the sound letting the percussion positively pop. By far the highlight of the collection is the bossa nova inflected work of "I Wanna Be" where Anne Marie Bush lets every sound buzz with energy, from the low-key rhythm to the light and airy guitar work. Ambitious in scope are the hushed tones of "I Will Surrender". Gradually growing in terms of tone and structure the song impressively shows Anne Marie Bush at her more subtle. Electronic tones work wonders on the spidery sounds of 'Wings To Fly" as the song emphasizes a sense of freedom.
By letting these pieces grow in a shadowy haze Anne Marie Bush has created the perfect late night album with "UnZipped". This is an album for lovers.
http://www.annemariebush.com/
https://www.facebook.com/Anne-Marie-Bush-201092666571738/
Posted by Beach Sloth