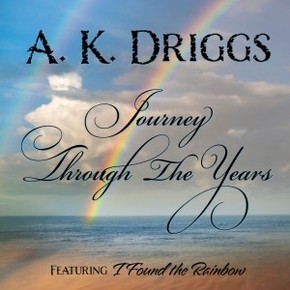 Most people see newborn babies as cute bundles of joy symbolizing hope for the future. Unfortunately, some adults are so challenged in life that they cannot see hope in an infant – not even their own.
That was true for the mother of A.K. "Kim" Driggs. As a newborn, Driggs was found abandoned inside a brown paper bag left on a toilet seat in a bar-and-grill washroom on a freezing winter's day in Rochester, N.Y. The fear of abandonment would haunt Driggs for much of her life, but it melted away, she says, when she was able to finally achieve what others from a much more privileged background fail to acquire: self-acceptance.
"Even though I've had it rougher than many, I've been able to understand that each one of us has a unique set of personal challenges as we pursue that quality which eludes so many, self-acceptance," says Driggs, author of "Abandoned in Search of Rainbows," (abandonedinsearchofrainbows.com).
"Whether privileged or unusually burdened, we all face the journey of trying to overcome self-doubt. Sometimes it comes from within, and sometimes it comes from external forces, such as society norms."
In addition to her fear of abandonment, she also feared never finding true love. Driggs, a breast cancer survivor who eventually found love with a same-sex partner, discusses her journey to happiness, wholeness and self-acceptance, and explains how others may find inner peace, too.
• Forgiveness is a very good sign. As a more self-actualized adult, Driggs was able to forgive her mother. Throughout most of her life, she simply wanted to know "why she abandoned me like she did," she says.
"But I came to a point of realization that she was in such a bad state in her life that she probably didn't know how to cope with a newborn one way or another. I realized compassion in such a way that I couldn't resent her."
When you can forgive those who have caused the deepest hurt in your life, you are better able to forgive yourself for abiding in the self-doubt that disables self-acceptance.
• Hold on to your dreams. At some point in our childhood, many of us find something that we truly love doing. Strangely, many of us stop doing that thing we love. As a girl, Driggs loved singing to all living things, which always responded positively to her voice.
"I've had investors and, at one point, had a contract that I ultimately refused to sign because the conditions just weren't right," she says. "As a younger woman, my career as a recording artist didn't work out and, brokenhearted, I stopped singing and playing professionally."
Several years later, however, Driggs came back stronger than ever with a companion piece to her book – the album, "Journey Through the Years," featuring the song "I Found the Rainbow." Her music combines warm, sultry and smoky vocals with jazz, country, pop and adult contemporary genres.
• They're not weaknesses; they're strengths. "If it's one thing I wish I could have known as a girl that I know now, it's that wherever you find yourself in life, that's where you're meant to be," she says.
While a particular phase may not feel great or best be defined as transitional, it's all part of the bigger picture. For example, Driggs figured out at an early age that her adopted parents chose her specifically.
"My adopted mother told me that, which completely changed how I saw myself," she says. "It was something I went out of my way to tell other adopted kids, who were vulnerable to the fact, in elementary school. Likewise, other things in life that may be seen as weaknesses or counter-productive, I've learned to see how they actually make you stronger."
• If you've found true love, you don't have to feel scared or confused. In 2015, the Lesbian, Gay, Bisexual and Transgender community has had much to celebrate. While the community still faces resistance in some corners, gay acceptance was a rare commodity in previous decades.
"But I grew up in a time when having bisexual and gay feelings was less socially unacceptable, and I'm sure there are young people out there today who are struggling to come to terms with their sexuality," she says. "If you are afraid to accept your gay or bisexual feelings as a young person, there are likely many resources in your community, and online, including PFLAG's website (community.pflag.org)."
About A. K. Driggs
Discovered inside a brown paper bag left on a toilet seat in a Rochester, N.Y., bar-and-grill washroom, newborn A. K. Driggs (abandonedinsearchofrainbows.com) made headlines from the start. Adopted by a loving couple, she continued making waves on her extraordinary life journey as an animal communicator, musical prodigy, bisexual lover, phone-sex superstar and recording artist. From abandonment and betrayal to unconditional love and trust, Driggs chronicles her journey in "Abandoned in Search of Rainbows." Her provocative candor lets readers experience the whole spectrum of emotions as Driggs searches for a meaningful life. By finally finding her place in the world—personally and professionally, romantically and sexually, musically and spiritually—Driggs illuminates a magical path for each of us to follow to get there, too.