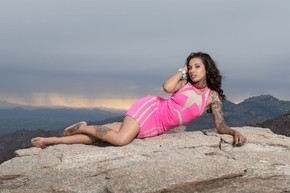 Tora Woloshin is a talented young artist who was on the first season of X-Factor and mentored by Simon Cowell. Referred to some as being "too diverse", Tora Woloshin knows what she wants out of her music, style and sound and won't accept anything less. Woloshin has opened for such acts as: Ne-Yo, Flo Rida, B.O.B. and Method Man. Tora has a green thumb and good heart as she loves farming and wants to someday own farms all over the world to help feed the needy, poor and hungry. As an aspiring philanthropist and musician looking to inspire others, Tora Woloshin is full of promise. And stay tuned as Tora Woloshin claws her way through her ongoing #TigerInvasion World Tour as it's set to hit China early 2016.
J Rae: I saw that you were born in LA but currently reside in Tuscon, Arizona. What brought you to Tuscon and away from California?
Tora Woloshin: My mother lol. She brought us to Tucson when I was 4. She was born here.
J Rae: Your music has an array of elements from Rock, Pop and Soul to R&B, that sends off a cool vibe. Where does the passion and inspiration come from to create your specific style of sound?
Tora Woloshin: I've had a lot of traumatic experiences which now has turned into my story. And I feel that part of my destiny is telling that story and helping/influencing those who have the same or similar experiences and to put some happiness and faith into their lives.
J Rae: Couldn't help but notice you were on the first season of "The X Factor", which must have been an incredible experience! How did you do on the show and what did you gain from being on "The X Factor"?
Tora Woloshin: I got to the top 8 girls and was mentored by Simon Cowell. Along with being Simon and Kelly Ripa's favorite, I also gained amazing exposure and knowledge of how tough I am and how much pressure I can handle.
Search "Tora X" on youtube to see the auditions. (https://www.youtube.com/watch?v=bKl8alWElgA)
J Rae: When you were on "The X Factor", Simon Cowell referred to you as a "little rock star". He obviously saw something special in you at that time and would love to know what advice Simon gave to you? Knowing Simon's background, I have to imagine he was brutally honest but was it constructive criticism that you still value to this day?
Tora Woloshin: Simon was disappointed to let me go, as it wasn't fully his decision. They knew they couldn't mold me like a blank slate bc I am so distinct and knew who I am and how I wanted to be seen by the world. He wanted me to audition again and told me never to give up bc I was truly something special. Thanks Simon! lol
J Rae: What did you learn from all of the Judges on "The X Factor" and how has it affected your music career and your life thus far?
Tora Woloshin: I learned how to test my strengths and use my weaknesses as leverage for my performances and music.
J Rae: I read in your Bio that you're also into farming, training horses/dogs, racing cars and making stage costumes for your performances. Would you care to delve more into these exciting hobbies for the Skope Universe and tell us why they give you so much joy in life?
Tora Woloshin: I grow my own produce at home also conserving water in rain barrels. I'm not sure what brought on this passion but for some reason I've always had a green thumb and Mother Nature is my guide to success. If I work with the Universe, she will work with me. ;) Eventually I want to have farms all over the whole world that produce for people around the world in poverty, starving or with little to no resources to grow. See Facebook.com/revmotion for further info on the business I'm starting.
Not only did I grow up in the performing arts, but I also partook in the 4-H program eventually moving up to training and breaking horses. (I still take horse projects on the side)
I went to school for automotive technology. Ever since my mom let me play with hot wheels, I loved cars. How a piece of metal can be developed into something that had power and can take you from one place to another in a timely manner, always intrigued me. Started racing at 18.
I've always been crafty. I love making things from scratch (including food)! I've been "altering" my cloths since a very young age. Mom yelling at me bc I cut off one pant leg in my jeans lol. But eventually my passion involved into true designing. All the outfits you see that I wear in some photoshoots and all the shows, I made.
See instagram.com/torawoloshin
J Rae: You've been professionally dancing and choreographing for over 15 years now and would like to know how that originated and how it's been going for you? Who have you had the chance to work with over the years?
Tora Woloshin: The first choreography I did was when I hired dancers and back up singers for the little "festival tour" I was doing at all the fairs and such, at 13. I always loved making up my own moves to music and at 15 I worked at the YMCA as a hip hop instructor later moving onto producing my whole shows on my recent China Tour.
J Rae: I noticed that you recently toured with B.O.B. And opened for Ne-Yo and I know the Skope readers would love to hear more about you sharing the stage with these current artists! Any behind-the-scene or off-the-stage details are also welcomed here.
Tora Woloshin: I say too much about the B.o.B situation but I was signed to his label and then his manager didn't want to go through with it anymore bc "the marketing team didn't know what to do with me" I'm too diverse. We can speak off the record if you'd like to know what happened. ;)
Ne-Yo was cool! He's very sweet. He came right up to me and introduced himself. I didn't even see him coming! lol In 2013 I also opened for Flo Rida and Method Man. :*
J Rae: So you were on tour early this year which was called "Tiger Invasion" and this started in China. Is this tour still running and how many locations were included? Was the tour a smash Hit and why was it called "Tiger Invasion"?
Tora Woloshin: TORA means "Tiger" in Japanese. All my little followers and amazing fans, I call them my "Tigers". It started in China and I had a lot of problems with the dancers I took, so now I'm trying to find 2 boys and 2 girl dancers for another tour offer in China for Jan-March. So the #TigerInvasion world tour is not over! I call it my 5 year tour! lol Hopefully Japan will follow the next tour in China. Just need better filming of my shows in China so I have better material to provide for the other countries. Search (tora china) on youtube to view the documentary from the first stop in China.
J Rae: It stated that you're currently writing and producing new music as we speak and so are you at liberty to discuss this in further detail with the fine Skope audience? Where can the loyal Skope fans find all of Tora Woloshin's HOT tracks & videos and when can Skope readers expect to get their hands on fresh, new material from Tora Woloshin?
Tora Woloshin: My released music is on soundcloud.com/torawoloshin
and also search tora woloshin on iTunes for more. My youtube.com/itsmetora and
also find me on instagram, Facebook and twitter: @ToraWoloshin.
J Rae: One last thing I'd like to ask and leave you with and that is what is one powerful quote that you currently live by or could live by if you don't have a favorite quote yet? Dare to inspire us here Tora and don't hold back!
Tora Woloshin: "If you fail, try, try again."
"I gave my dreams a second chance about a thousand times."
"The people crazy enough to say they can change the world are the people crazy enough to change it."
By Jimmy Rae (jrae2@att.net)