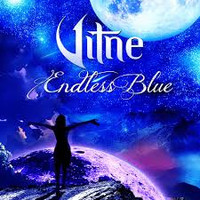 Most would agree most popular artists out there have something truly special to give to their fans. This goes above the typical attributes like raw talent, amazing songs, nice voice, or even a very marketable look, sound and image. There's something truly infectious at the core of these artists that simply makes us feel good when we listen to them. Whatever "it" is – they all seem to have "it".
Today I listened to the latest EP from Oslo Norway's own VITNE (Joseph Kimbrell) who just released his latest EP entitled: "Endless Blue" in 2015. Venturing to their website I get the impression this is one artist that's extremely determined, dedicated and passionate about the songwriting craft and writing no holds barred thought provoking Alternative Rock music. From start to finish this CD from VITNE delivers and is a very entertaining musical experience. It pushes hard and has aggressive Punk-Alternative Rock quality to it, and even dabbles in Hard Rock and some Punk. It also reminds me of Brendon Urie, The Young Veins, The Academy is, and Metro Station. Any fans of any of these musical styles or bands will enjoy this latest release. It's clearly marketed for those who like a male vocal front and plating that never let's down its guard. I get the impression these guys Vitne: Lead and backing vocals, flute, guitars, bass, synth, Julian Angel: Lead guitar, Phil Robertson: Drums on "Misery" and "The Ocean",, Matthew Sean Reynolds: Drums on "Endless Blue" are letting it all hang out via this compelling 6 track line up. In other words they hits the mark remarkably well by just by being who they are musically. Favorite tracks include (Misery) and (the title track. All songs strike the perfect balance between rock, alternative rock and in your face punk. The songwriting is impressive and within each one of these pieces VITNE captures something special as they bare their soul and delivers what I would call pure musical mojo. It offers much in the way of passion and compelling-thought provoking lyrical content. The playing from all members is spot on and just makes the whole CD even more enjoyable. The vocal abilities and passion from VITNE is to die for. The overall vibe of the production is very defiant, rebellious and a bit comical with pockets of hope shining through.
I see VITNE as a diamond in the rough, with an amazing amount of potential. As time goes by he will no doubt hear more from him. By the way he has several albums to his release. I also would'nt be surprised to hear his music on the Radio someday or even in a video game a Reality TV Series or headlining the Warp Tour. I'm also eager to see what the future holds for hism because he has start quality. In close most famous artists out there have "it" I'm not so sure what it but VITNE have whatever "it" is.
4.5/5 Stars
Primary URL: http://www.vitne.net/
Thomas Senn