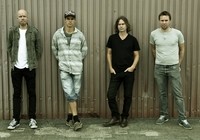 The new single "Begging You Please" by viseMenn is full of earthly tones and somber backing howls that will send chills down your spine. It is no wonder that this Norwegian band has been gaining traction within the indie rock community. I expect to hear much more from viseMenn in the coming months. This is a song that you can play while lying down and zoning out, it is truly special when a song allows you to transcend into another space, something many songs lack in the current industry.
Watch the new video for "Begging You Please":
https://www.youtube.com/watch?v=nSZz20wBmAg
Listen at Soundcloud:
https://soundcloud.com/visemenn/begging-you-please
Front man Helge Corneliussen delivers these smooth and clean vocals accompanied by Lars Olav Mangelrød on guitars, Sølve Eggebø on key board, and Magnar Lofthus on drums. The band is able to deliver not only this mournful sound but haunting lyrics such as; "Begging you please come find me, take me home, let me not hurt anymore." With meaningful lyrics like this and almost an psychedelic track to back them up viseMenn is here to stay.
Jake St. Jean – stjeanja@my.easternct.edu