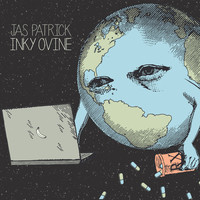 Ahhh…blues-infused rock, could there be a more illegitimate genre at times? I'm just saying, not defending, but if Robbie Williams can get himself and Pharrell Williams sued over "Good Times" then how the entire blues-rock industry doesn't feed off each other in the courtroom for the licks, riffs and sounds they ALL borrow…is actually kinda beyond me. On the one hand, you can look at it all as a case of, no – Robbie shouldn't have lost that case as it wasn't nearly as close as others have come in the past to a direct copy – or you can look at it as a case of why has it become so tough to innovate within blues-rock? Or is it?
Thankfully Jas Patrick isn't just relying on old blues-rock standards. Even when the Inky Ovine EP starts in with "Harpy," there's nothing about the song not to like other than its comforting patterns and familiar blues-feel to the music – otherwise in playing, performance and production it starts out perfectly and you can hear there's a wicked set of vocals from Jas that can easily make themselves known at any given time. But from the blues, we head into a much more rock-driven song with pop-overtones that leaves the blues behind entirely, "Party Line (Classified)." Shifting into more complex patterns and a more unique and defined sound he can call his own…you can hear the influence of the mid-late 80's rock on the music here as it transitions through its progressions. Bright and full of emotion & a powerful performance from Jas once again on the vocals – in truth, as much as I truly enjoyed the music of this second track it was Jas' performance that really made this song great for me.
Then with a REAL shift & departure from all the sounds we've heard so far, JP heads to a nearly reggae-influenced vibe in the EP's title-track "Inky Ovine." A clever tune for sure…this would be a very tough song to sing – you can hear it's right at the top floor & executive-level of Jas' voice – but he gets there! There are moments where it is a little like a rollercoaster…and you wonder if he's going to make it…and just when you think there might not be enough speed or strength to crest that next ridge, he pulls it off again. I'm not usually one for a reggae-anything really…but there's something about the way that Jas has approached the writing of "Inky Ovine" that has ensured it's not too much of any one thing; in a genre-twisting epic, this title-track goes after quite a lot sound-wise and manages to make it all happen with clever transitions that flow fluidly and smoothly as it changes.
"Little Bug" was the song I least expected. While I think there's a few things in the vocals from Jas that he might have wanted to come out a little stronger or more convincing on this song – what I found that I really did like about this one was the amount it keeps you guessing as it winds and weaves through its four-minutes. Some excellent guitar-work in this tune, but for the most part even with its gentle melody this is by far one of the least-typical and therefore least-accessible songs on the Inky Ovine EP; what we as musicians often dig-on for complexity, skill and assembly, people tend to hear as songs without easy-to-digest hooks or words to easily sing along to. "Little Bug" speaks a lot to the writers out there.
Switching it up yet again, any memories of my original blues-rock comments have almost faded entirely as "Didn't Ask" begins. Here's an example of Jas Patrick at his innovative best – the changes in this song, and the ultimate change with two-minutes or so to-go are completely and thoroughly well-executed. Starting with a synth-infused combination – "Didn't Ask" works well through its opening verse and chorus but saves the real fireworks for its ending; the longest tune on the album – its final switch is so defined that it's totally like a 2 for 1 bonus. Captivating completely through a brilliant combination at the ending…I loved how "Didn't Ask" builds up to these final moments, bursts open and really finds itself a second-life within these last minutes of the song.
I'm here at the ending…and I still feel like I haven't quite put my finger on who it is that Jas Patrick reminds me of so much…I think what I'm thinking is the music overall lies somewhere in between the music of Go West and Big Head Todd And The Monsters. Nearly taking Green Day's "Brain Stew" for a funked-out ride at the end of the album with "Snow Day" – Jas' has created a song as fun as the event of the subject matter itself. Each song that has played has really given Jas a fantastic platform to display some dynamic vocals and this final tune is no exception to the rule thus far – he puts power & emotion into every word and has really given every track on the Inky Ovine EP its cohesion while the music has provided the diversity. There's a lot to listen to style & sound-wise on Jas Patrick's Inky Ovine EP – and I think he's pulled it all off extremely well.
https://www.facebook.com/jaspatrick
JER@SBS – http://sleepingbagstudios.ca