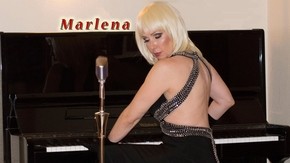 Recording artist Marlena never left her roots behind when circumstances caused her to move to sunny California. As a young lady growing up in the diverse borough of Queens, NY she was surrounded by its sights and sounds. Queens is known for producing music legends from RUN DMC to 50 Cent, and even Tony Bennett hails from this diverse New York Borough.
Growing up, the dominant genre of music that drew her attention was soul. Her influences are many, but artists like Etta James, Al Green and Donna Summer stood out. She played in many bands, which helped to hone her musical skills. But most of her musical experience came from singing in her father's church. Her father Rev. Howard H Becker and her mother Mildred Mae were her biggest fans along with her two brothers and sister. She even dedicated one of her songs to her father called "Stormy" (https://www.youtube.com/watch?v=C1ksWDRkiYw).
Marlena married and had a son, and decided to raise him in Covina, CA. At this time she would depart her "music train" and focus on her son, Joe Henry. The closest she got to performing was in the local church. But the laid back lifestyle did not fit the native New Yorker. When her son was old enough she actively sought out venues to perform. Unfortunately dark clouds were overhead and she went through a painful divorce. Yet sunny skies were not far away as a new man entered her life who to this day is her strongest supporter.
In the years of her singing in NYC, one of her favorite venues was Studio 54 in Manhattan. The band she played with during that show was called One Times One led by creative guitarist and vocalist, Ralph Trimarchi.
"It was an amazing and exciting experience to play at Studio 54. I secretly arranged for a stretch limousine to pick up my parents and bring them to the show. I told them to dress up in their "Sunday Best" because I had a surprise for them. They arrived at the club and were escorted in privately. The lights were turned down very low and than the show began. With the light beams filling the room and the music starting to build we took the stage. I could see my parent's faces as they slowly realized it was me up there!"
Marlena was not only a singer but an artist. She attended the School of Art & Design in Manhattan. There she would study General Art and Academics. One of her teachers Mr. Greenburg always inspired her to strive and never let up.
When it comes to her musical palate Marlena also has a strong Jazz element. She feels that Jazz is on the upswing in current music. Recently, she has been approached by artists across the ocean to collaborate with her on certain projects. The fusion of two artists from different cultures usually yields great projects. Marlena has just released her new CD "My Heart To Yours" which has already received accolades among music masters.
She recently did an interview with radio personality "JazzyMan" on a Las Vegas based show "Night Grooves". To add to the positive feedback were Franconia Mettalum Review, Magic Music Magazine Review, and Joe Joe Keyes from Indie Music Plus. With all this going on, it is no wonder that her Twitter page has reached over two thousand followers, in just a few weeks. You can also board the "music train" and catch more about Marlena and her creative music by visiting
iTunes (https://itun.es/us/8sKH7) , Amazon (https://www.amazon.com/My-Heart-Yours-Marlena/dp/B00YEAAOTE/ref=cm_sw_em_r_awdod_IkwHvb1YBZP5X_tt) etc.
For 2016 Marlena hopes to re-visit NY, promoting the new CD "My Heart To Yours".
To keep track of any new shows visit her website at http://www.marlenarocks.com/
by Nick Christophers