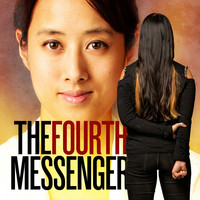 "The Fourth Messenger" is the soundtrack of a new musical with book and lyrics by Tanya Shaffer and music and additional lyrics by Vienna Teng. Loosely inspired by the Buddha legend, it features Vienna Teng in the role of Mama Sid, a world-renowned spiritual teacher with a hidden past.
Possessing a strong sense of pacing, Vienna Teng's "The Fourth Messenger" is an ambitious and ultimately deeply fulfilling journey. With sharp careful attention to lyricism, Vienna Teng expresses what it means to be alive in the world. By letting her pieces elegantly flow and build upon each other, the songs possess true character. Tastefully arranged, each piece offers yet another faucet of the complications in life that make life so rich.
The entirety of the piece has a crystal clarity to it. Throughout the album the songs are full of strength. With "The Human Experience" Vienna Teng explores the fragility of life, remarking on how fleeting it can be. Veering on the other side of the emotional spectrum is the biting parody of upper class isolated suburban life "Bois Riche". Remarkably detailed in terms of scope and scale the song serves as an ode to those who talk about their high-end communities in private, with every line revealing itself to be the sort of thing that people whisper to each other. Inspiration flows from the hushed quiet of "You've Got A Glow". A mixture of emotions rises from "Sid's Temptations" from the hallowed to the rollicking. By far the highlight of the collection is the self-discovery of "As Long As I Am Living". Gracious, the song builds up into a satisfying release of realization.
Such a wide emotional range, from the comic to the tragic, gives Vienna Teng's "The Fourth Messenger" a sense of timelessness.
http://viennateng.com/
https://www.facebook.com/ViennaTeng
By Beachsloth