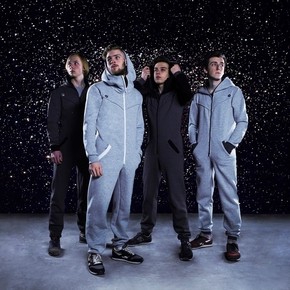 Hello music loving people of earth, it is amazing to have you all here today! Lots going on today on October 21 so lets get to it. In academic news today, starting this Fall, McNally Smith College of Music is rolling out a completely redesigned music theory curriculum that makes the time-honored subject more musically relevant and accessible to contemporary music students. This curriculum is another significant example of the College's broader Teaching For Tomorrow* initiative, which aims to redefine music education for the 21st century to best prepare students for success in the future music industry – http://degrees.mcnallysmith.edu/musiccollege/. I could have used that when I was in college. In M&A news today, Eros International Plc, a leading global company in the Indian film entertainment industry, today announced the acquisition of PingTune, a UK-based music messaging company that allows fans to discover, share and listen to music through their app on iOS & Android. The PingTune acquisition provides Eros' digital platform ErosNow with a first mover advantage in building a differentiated, one-of-a-kind music experience over any other major platform in India. So I am so excited to announce my guests today from Kyiv, Ukraine by the name of Indytronics. With all the turmoil going on in Ukraine it is inspiring to witness this group of talented musicians continue their passion of music. The guys have a new album out and an awesome video for "Big City Life" so it was perfect to have them on. Join us today as Indytronics speak on everything from life in Kyiv, Ukraine, the new album 'Scintilla Wave', going out in Kyiv, and so much more!
Stoli: Where are we talking from today and how was your summer?
The Summer for Indytronics was fine. We've learned something new, got some experiences and new impressions. We also continued to write new and stronger songs. We toured all over our home country, Ukraine, we've visited many cities and played the various festivals. The most memorable gig was held near an ancient castle 'Svirzh' (near the Poland border). We performed for an hour, with our program 'Scintilla Wave Show'. So we were glad to meet lots of experienced musicians there, and compare notes with them. It was quite productive summer for the band.
Stoli: How is life like in Kyiv, Ukraine and are you effected by the war with Russian separatists?
Kyiv is the capital of Ukraine, so the life is simple and quiet. For the last year, Kyiv citizens have opened a lot of new bands in different genres for themselves. Indytronics is a unique band in Kyiv, and the one and only in Ukraine to play in 'post-punk revival' genre (hard and fast indie, with strong riffs, effects, and memorable pleasant vocal parts). We try to stick to the meaning that we are apolitical musicians, and we vote for peace and freedom, all over the world. 'We are bound to break the borderlines and carry out the sound'© (song 'Mighty One' by Indytronics).
Stoli: How long have you all known each other and when did you decide to become Indytronics?
Being friends since high school is our main benefit, because it's very easy to find a common language in many problems and disagreements. When we perform, we can feel each other well. In addition to the rehearsals and gigs, we spend time together having barbeque or playing billiards. We decided to become a band at the end of high school. The first concert was held at the school, we played as the support band for a quite popular pop-rock team. As we remember, everybody told us, that we did much better. But actually, we had many friends there in the concert hall. We found an inspiration to start creating music when two of the band members (Danil and Denys) were touring across Europe and happened upon street musicians in Stockholm playing with an interesting melodic indie vibe. They were so impressed after hearing such great music on the streets of Stockholm the guys decided to come up with something special on their own upon returning to Kiev. This It was the beginning of Indytronics in 2012.
Stoli: How much time per week do you devote to the band and do you also have work/school/family?
Our band is the main thing for all of us, so we devote most of our free time, as much as we can. Also we are students at the Ukraine University named after famous poet Taras Shevchenko (not a footballer, as everybody thinks). We study politics, economics and philosophy. The Red (we named the University this, because of the main red building) helps us to broaden the mind, and move forward, with all of your beginnings and knowledge. However, sometimes, it baffles us to go forward with the band, so, occasionally, we have to choose between the band and studying, as it was during 'Scintilla Wave' recording process in the studio. We've chosen the studio, and did no mistakes – the album worked out well, so we've even had a little time to get ready for the exams!
Stoli: I really love your new album, 'Scintilla Wave.' How long were you writing & recording and where is your studio?
Thank you so much! This album, has been the main part of our life for the last year. All the situations, adventures, different people and cases made this longplay – like it is available now – strong, fast, melodical and insinuating. We want listeners to know – Scintilla Wave is bright and spreads all around the world like many little glitterbugs – flying and shining everywhere. With the help of our sound producer Sergey Sershen – the guitarist of popular Ukrainian power-metal band 'Morton' – we made a diverse album with different styles of songs, all sounding like one completed big melody, along with distinct moods. Our studio is located in the downtown of Kyiv.
Stoli: I love your new video for "Big City Life" – https://www.youtube.com/watch?v=MlAqFb156uo. How did you come up with perfect visual concept for the song?
Cinematography University of Kyiv has its own base of talented, creative and imaginative students, who are into their action, and give it all they've got. The '3KO' production (named by the three surnames, ending with 'Ko' letters) are valedictorians of the University, helps us with their idea to shoot the video with one cadre, in home atmosphere. The shooting process with these amazing guys was great, we've had spent good time together. Vocal parts were recorded by the vocalist of Indytronics Danil Bogdanenko, and popular cover artist in USA – Chad Sugg. We also made projection on the wall in the video.
Stoli: Since there are four of you in the group offer some insight on how you all come together and create music and make the band work like a marriage?
Rehearsals are one of the most important parts of band's life. It is uncommon for us to cancel a rehearsal (only in case of important situations). We play 4-5 times per week, usually. Also, we've got future plans together, so as a team, we give each other advice. We always strive to be a strong team, with agreed actions and similar thoughts. That unity is very important while playing on the stage and writing new songs. But sometimes, especially after touring, we have a rest from each other, in good order.
Stoli: What are two bands/musicians from Ukraine that you like and we in the USA should check out?
Here, In Ukraine, especially in Kyiv, we've got many bands foreigners should check out. With the appearing of 'Onuka', it became popular to make a 'frontwoman' band. Well-loved styles are dance-pop, indie-pop, experimental.
But the rock'n'roll will never die, so we observe the big growth of stoner-rock, blues-rock and grunge. Since Ukraine has the political crisis and war on the east, music stepped aside, and less foreigner bands come to play, but live concerts are still popular events to visit.
Together, we attend concerts nearly twice per month. It helps us to find some desire, to hear how some of your colleagues and friends sound live, or just supporting the 'band-friend' with a visit.
Our favorite bands are 'Stoned Jesus' – the stoner/hard rock band from Kyiv, ones of the few who tour across the Europe, and played on the many European festivals.
The Second is – 'Sinopik' – digital psychedelic stoner rock band from Donetsk, whose sound studio was exploded after being hit by a missile. Also, they've played as a special guests on our 'Scintilla Wave' LP presentation gig.
Stoli: When I come visit you guys where can we go to hear live music in Kyiv and any plans to come play the USA?
There are only a few stunning places with qualitative live music, but they all worth of attraction. Basically, the places are half clubs, half concert halls with modern illumination and lights system, loud and expressive stereo systems. The best places to visit are 'Sentum' and 'Atlas', in which 'Scintilla Wave' was presented to audience. For bigger concerts we have 'Stereoplaza' and 'Palace of Sports'
Recently, a group of Kyiv clubs owners made a new location – Art-Factory 'Platform', that is rendered up for different types of events – concerts, food festivals, exhibitions and etc. The owners are young, talented and creative people. 'Platform' is made on the base of old Soviet era Factory. Now its features a stage, park zones and art-galleries.
Sure, we've got plans to come and play! The only problem is to find a good label, or management company, to organize the concert, because we don't have many music industry connections across the ocean. We are open for offers.
Stoli: What is coming up for Indytronics and where you @ online?
Now we are waiting our second official video on the song from the LP called 'Clone Fight' that is kicking off in the near future. Also we are recording three songs in half-acoustic variant, and will release it as 'B-side LP'.
Of course we plan to play some gigs in Kyiv and other cities in Ukraine soon. You can follow our news on the Facebook, Instagram and YouTube pages.
Indytronics is located in Kiev, Ukraine, and consists of four members. Considering themselves as Indie-Rock and Post-Punk revival band. For the time being, Indytronics has an EP "Vision" released on the 4th of October 2013, a few singles and their debut LP "Scintilla Wave" was released on the 23rd of April 2015. During these 3 years, Indytronics has appeared on several Ukrainian TV shows, and their songs are in rotation on many radio stations in Ukraine and worldwide in The USA, Germany, Canada, France and The UK. Their music is also has been using on fashion shows on the international television network.
Video: https://www.youtube.com/watch?v=MlAqFb156uo
Official Web site: http://indytronics.com/
Facebook: https://www.facebook.com/indytronics
VK: https://vk.com/indytronics
Twitter: https://twitter.com/indytronics
Instagram: https://instagram.com/indytronics/
Soundcloud: https://soundcloud.com/indytronics
YouTube: https://www.youtube.com/channel/UCmC1bIJw3BkXMC0qe5qsZSg
iTunes: https://itunes.apple.com/us/album/scintilla-wave/id989714284
Also available on Amazon, Google Play, Shazam, Last FM etc.