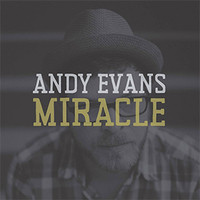 Miracle is a testament to the human spirit. Andy Evans adheres to a glistening version of pop. Every sound feels immaculate. The fidelity is brilliant and the songs are chock of full delightful hooks. By balancing both an old full sound with a sense of complexity, Andy Evans is able to do a great deal throughout the album. Woven together the songs possess great color. Stylistic twists and turns help to keep the album quite active with Andy Evans utilizing pieces of country, folk and classic rock into a satisfying whole.
Streaming links:
https://soundcloud.com/andyevansmusic/sets/miracle-promo/s-Xcmgb
After the hazy "Intro" Andy Evans settles into a comfort groove on the title track "Miracle". The guitar work is fiery and the vocals are strong. A funky sensibility moves the song forward as the keyboard work adds colorful flourishes. Subdued in tone is the quiet introspective work of "Lesson Learned". Stripped down to the essentials the song is quite affecting. With a nice appropriately evil snarl is the album highlight "Judas" whose tale of betrayal is particularly satisfying. Taking on a jazzy light touch is the smooth languid grooves of "Elemental" whose sound at times is reminiscent of the studied precision of Steely Dan, right down to the clever lyricism. Ending things on an epic note is the swinging work of "Make It" whose blistering guitar work is an absolute pleasure.
The perfect combination of the new and the old, Andy Evans creates a perfect piece of art with "Miracle".
Find him on Facebook: http://www.facebook.com/andyevansmusic
Posted by Beach Sloth