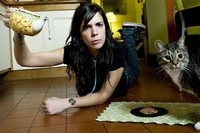 Taunton, Massachusetts native Sarah Borges has been one of the indie music scene's best kept secrets for a number of years. A lifetime working in musical settings of various sorts helped her blossom and her vocal and songwriting talents later long deserved mainstream exposure both as a creative force in her former band The Broken Singles and as a solo performer. She pens and performs stylish, deeply soulful songs aimed at adults, but never lacking the bedrock musical appeal that any discerning listener enjoys. The musicianship is never content with merely hitting its marks – instead, Borges' latest single "Caught by the Rain" weaves a spellbinding atmosphere thanks, in large part, to her superb backing.
Her voice rightly commands most of the spotlight. She has a surging, powerful voice brimming over with playfulness, emotion, and innate musicality. Her voice, from the first line on, effortlessly wraps itself tight around the song's loping groove. It's even more impressive to clearly hear how she straddles the line between presenting her vocal as a separate entity working in conjunction with the backing while still using it as another instrument. Few singers, at any level, show such attentiveness.
The music has light country flair, but its roots run closer to mid-tempo indie rock. The drumming sets the tone with its loose-limbed precision, but the guitars punctuate the backbeat alternating between gritty fills and chiming chord patterns. Listeners waiting for some cinematic crescendo are likely missing the point. "Caught by the Rain" isn't a theatrical exercise in musical form, but seduces instead, drawing listeners ever closer with Borges' intimate vocal, vulnerable songwriting, and the steady instrumentation.
The lyrical fare offers more evidence of Borges' songwriting talents. Like any talented writer working in the pop music arena, she shows a marked affinity for taking stock ideas and refurbishing them with a distinctive twist. The resulting affect is that, for experienced music fans, such references contextualize the track as serious work and not just some fluffy sonic confection. Her vocals embody the content well. Thanks to her range and the sympathetic backing, Borges' text comes alive in a dramatically compelling fashion.
It's not hard to hear the sort of confidence coming from a lifetime of performing. Sarah Borges isn't afraid of honesty – her music and writing embraces it, but the emotional truth of her voice dooms any fictionalizations. "Caught by the Rain" is a reflection on the power grief can wield over our lives and delivered with every bit of the sophistication and artistic vision commonly heard in Borges' earlier recordings.
This is an important single and addition to her catalog. In the few years since splitting with The Broken Singles, Sarah Borges has clearly honed her skills in ways that band configurations never allowed. "Caught by the Rain" captures a voice in full flight, aglow with music, and singing with ever-growing freedom. Its deft mix of soft pop sensibilities, restrained rock leanings, and its smoky lovelorn mood combine for an irresistible musical moment.
URL: http://www.sarahborges.com/
Jason Hillenburg