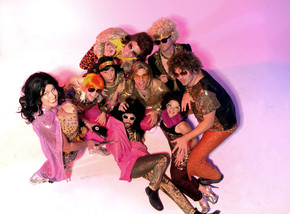 We're willing to bet that unless you came of age in the 1970's than you've never seen a band quite like VO5. Pulling their influence from a bevy of 70's music, especially disco, VO5 channels artists like The Bee Gees, Abba, Sly & The Family Stone, and others all in the pursuit of making their audiences dance. Today, we're excited to bring you the aptly titled "Dance Originality," a video that features a heaping helping of, you guessed it……dancing!
This nine piece outfit, based out of Madison, Wisconsin, firmly believes that dancing should be an essential part of everyone's revolution. The band includes two famous playwrights, a brave firefighter, a renewable energy guru, a wind-power engineer, a best-selling ornithologist and engineer, a wise doctor, and two celebrated actresses. Each member brings their own unique contribution, but when they put their skills together, it's a party the likes of which you've never seen. Their theatrical sensibilities combined with outrageous costumes create epic-length dance parties that have become celebrated parts of their hometown. To celebrate their 10-year anniversary the band is releasing their first album, offering ten unique tracks of uplifting dance music. The first track up for your consideration is the undeniably funky "Dance Originality."
The "Dance Originality" video is a mover and a shaker. The central prop is a massive, vintage boombox that sets the stage for what is about to shake out. A young man and young woman start with a stare down, each determined to show what they've got. He goes first, flinging his body around like a rubber band in the wind, then passes the baton to her. She eagerly busts out moves that would have any choreographer salivating at the mouth. Part showdown, part teamwork, this duo unleashes a flurry of motion across this city park that creates an undeniable synergy of epic proportions.