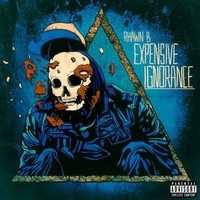 Rhawn B's "Expensive Ignorance" lives in the shadows. Throughout the songs there's a sense of darkness that pervades. Lyrically the songs have a sense of defiance that are nicely matched with the nimble rhythms. At times the sound is reminiscent of footwork with careful attention to detail.
Watch the music video for Can't Touch Me (Feat D Real, prod. AyoDLO):
https://www.youtube.com/watch?v=yQx1upB51bk
Opening up with the title track "Expensive Ignorance" Rhawn B starts things off with a raw hazy sound. Deliberate in tone is "Ain't Got Question" whose careful melodic sensibilities show off a chameleon like shift from texture to texture. Full of strength and power is the muscular bass hits of "Status Booming". With a sense of anxiety the song hits hard. Shoegaze-like guitar work defines the spidery work of "Just Get To It" where Rhawn B's lyrical delivery is particularly on point. By far the highlight of the collection is the poppy and playful "See It, Want It". Skeletal in structure is the fragile work of "Stay In My Zone". Taking on a lush sound is the leisurely grooves of "Vibe Right". Bringing the album to a close is the dreamy work of "Perfect Potion" where the sound has an early 90s Warp Records feeling to it. Indeed "Perfect Potion" strikes the right balance between the hard-hitting rhythm and the ambient melodies.
Stream the record here:
http://rippletunes.com/album/Rhawn-B/Expensive-Ignorance/975106083/t0
By imbuing a sense of atmospherics throughout the album Rhawn B is able to create a compelling narrative that ties "Expensive Ignorance" together. These are songs that define the skeletal sounds of the night.
https://www.facebook.com/UniquelyDivided
Posted by Beach Sloth