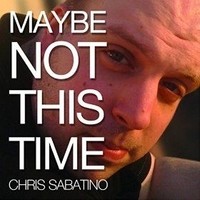 Midwestern born singer/songwriter Chris Sabatino traveled a circuitous route to get here. Following his college graduation, Sabatino initially pursued a career in media, but soon turned his attention to a musical career that, so far, has produced three EP's. His third and most recent EP, Maybe Not This Time, is a five song collection that shows off his meat and potatoes songwriting approach, but best highlights his sincerity and depth. Despite the singer/songwriter aesthetic pervading many of the songs, there's a light pop sheen giving each track a distinctive shine.
You'll never hear another song quite like the opener, "Rockstar". It isn't particularly adventurous musically, though a well-phrased guitar solo stands out, but the lyrical content distinguishes it. Sabatino employs direct, unadorned language when describing his struggle to be heard by a remote, often callous music industry. There's a certain amount of commentary on naïve dreams now dashed, but the song's very existence implies something larger. If you care about what you do, concerns about fame and financial windfalls soon fade. Chris Sabatino writes songs because he has to. "Garbage" is much moodier than the wistful opener and retains the same welcome focus on fundamentals distinguishing the earlier track. Sabatino's vocals take the spotlight here and his emotive edge rides the song's crescendos with loose, appealing confidence.
"Escape" has a much more theatrical, atmospheric spin than the earlier songs. It certainly never plays in a leaden way, but the song's slow tempo lacks sufficient melodic strength. There's simply not enough variety in this otherwise worthwhile experiment to elevate it far above a noble failure. "Here with Me" embraces brighter sonic shades than the previous song but pursues the same deliberate tempo. The production effects and considered instrumentation surround the song in a dreamy, ambient swirl. Sabatino's gently yearning vocal has just enough grit to act as counterweight to the lyric's unabashed romance and imbue the track with a faint air of sadness. The EP's final track, "You're the Only One", raises the tempo and further brightens the sound. This is easily the album's strongest pop song with an inviting, catchy melody. Sabatino delivers the straight-forward lyric with the same calm, reassuring vocals that highlight every track.
Some might decry the songwriting's focus on clichéd imagery and Sabatino's laid back vocals, but they are missing the point. The songwriting on Maybe Not This Time hails from a school whose first aim is entertainment. The entertainment, however, is based on writing resonant material for sophisticated adult listeners. The clichés are common reference points – stabs at universality – and succeed spectacularly by that measure. Sabatino has a polished style that it takes many performers and songwriters years to cultivate. His music doesn't bellow and swagger with bluster – instead, the five songs on Maybe Not This Time convey his depth as a feeling human being and skilled artist. Long may his music continue to find "homes" in television, but let's hope he soon turns his attention to a full-length album as a proper forum for his gifts.
CD BABY: http://www.cdbaby.com/cd/chrissabatino4
8 out of 10 stars.
Jason Hillenburg