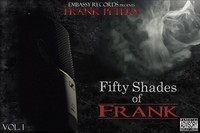 Frank Peters shows off his impressive flow on "50 Shades of Frank". With a series of playful interludes the album has a thematic narrative. The songs take on an impressive array of styles from low slung cruising grooves to fast-paced rushes. Jazz flourishes appear throughout the album helping to tie the album together into a coherent whole. Additionally Frank Peters proves to be quite adept at making sure to keep the entire album moving along quickly. None of the songs overstay their welcome they last just long enough to ensure that the palette is whetted before feeding into the next song. At times the album feels less like an album and more of a carefully woven tapestry of sound.
Stream the record:
https://soundcloud.com/frank-peters-430/sets/fifty-shades-of-frank
The first of several intros (in English, Spanish, Russian, German, and Chinese) opens up the collection with grace. From there it eases perfectly into the carnivalesque work of "Mr. Frank". On "Ambitionz" Frank Peters flies through with his flow on point as the song circles around in a wonderful neon-hued swirl. Easily the highlight of the album is the lush "Half Dollar" where Frank Peters really hits his stride. Remarkably catchy everything simply works: from the sample to the heavy-hitting beat. Towards the end of the album things become much more frenzied with party-orientated songs like "Numb" and "Seat Set Back". Ending things on a high note is the cinematic "Mercy".
Watch the music video for "Breakfast at the Bar":
https://youtu.be/nqTTk1EFxMo
By being able to handle such an assortment of tempos, styles, and sounds Frank Peters proves that he truly is a master of his sonic universe.
https://www.facebook.com/FrankPetersMusic
Posted by Beach Sloth