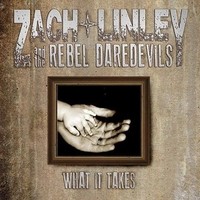 Zach Linley and the Rebel Daredevils present us with a very impressive hard-driving country experience with their latest EP, "What It Takes." The EP shows off Zach's talent for writing a well crafted song. Zach's gritty vocal style is ever present on the EP, which is laced with numerous sonic touches that leave the listener with an unforgettable impression.
While Zach Linley and the Rebel Daredevils have toured across much of the midwest, opening for such artists as Gary Allan and Frankie Ballard, their latest EP shows us what the future of country music can truly look like. In the words of Nyhl Hensen, co-founder and former CEO of CMT, "Zach Linley is the Garth Brooks of the new millennium."
The EP kicks off with "Cold Dead Hands," which features some powerful, gritty vocals and a catchy chorus. The snappy country guitar work on this track lends itself to imaginings of tumbleweeds blowing by on a dusty plain.
"Don't Forget," the next song up in the collection, is an exuberant and spirited song that features some sage advice from Linley's beloved grandmother, "Don't forget who you are and where you come from, and what you represent."
"What It Takes," the EP's title track, is a very tight song that shows off some intricate guitar work in the introduction. Zach's bassy vocals really carry through here. Some excellent song composition with nice breaks in the overall song structure really shine through, making this one of the highlights of the EP. The driving song style is almost reminiscent of some of Counting Crows earlier works.
The heartfelt vocal performance on "Honky Tonk Heaven" is a nice respite from the hard-hitting nature of the rest of the EP. This piano ballad features some nice slide guitar work and some very tasteful vocal harmonies.
"Sick and Tired," the closing tune on the EP, is a real mixture of country, rock and Americana. The song really shows off the high production quality of the EP, as there is some very thick instrumentation during portions of this song, but all the instruments stand out nicely. The ending of this ballad stands out with a few interesting twists and turns.
Zach Linleys latest effort is one of the most impressive works this reviewer has had the pleasure to listen to as of late, despite the fact that country isn't one of my preferred genres. I fully expect to see Zach Linley and the Rebel Daredevils on the charts one day very soon, as this is what the future of country sounds like.
Best tracks:
•What It Takes
•Sick and Tired
•Honky Tonk Heaven
10/10
REVERBNATION: https://www.reverbnation.com/zachlinley
FACEBOOK: https://www.facebook.com/zachlinleyrdd
Reviewed by B Lien