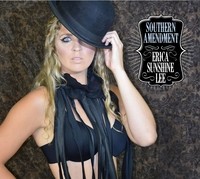 So across my desk slides the new 5 track EP from Georgia based singer/songwriter Erica Sunshine Lee "Southern Amendment". EP INFO: OSOUTHERN AMENDMENT contains raw stories about going to great lengths to protect what's yours, whether it's your lover, your home or yourself. This album has interwoven morals of redemption and forgiveness, and Erica Sunshine Lee's point of view on staying together, being a strong female, independence as she sets out on the road, and personal insights to how hard it can be to hold onto a relationship, through life's ups and downs. This southern belle has the right to remain silent, but speaks the truth, and believes in protecting her man, herself, and her belief in God.
To hear her sing – her confident, passionate vocals demand the attention that personify Independence. With her genuine warmth and a dynamic presence, Lee blends beloved standards with a delightful taste of blues, soul and Americana-country that bleeds Red, White and Blue. This is probably true every time she steps to the microphone because it's who she truly is and what she truly represents. Lee also shares unique original tunes that harken back to a classic era of Female Country-Western. This latest collection of original works and innovative arrangements captures the twists and turns we all face on our journey through the positive aspects of life itself. For me I think this whole album represents a kind of conclusion many reach in their lives and thus through Lee's music independence we see in the human spirit. As I spun the EP what I heard put a smile on my face. This is a pro-grade release from start to finish. It's a nice easy flowing record that delivers solid songwriting with a nice country-esque feel to it. Lee adds her own distinctive voice and spirit to this impressive musical backdrop creating an engaging combination of passion and Americana presence mixed with some storytelling and yes emotions. On a scale of 1 to 10 Lee is a 10 with respect to her looks and beauty, but it's her musical personality that leaves the biggest lasting impression – with no visuals to go by. This really shines through on marquee pieces like:" Mud on My Boots" and "Girls With Guns" But there's another side to Lee on more impassioned track like "Leaving Atlanta" and "Drinking and Preying.'
This is good mood music. Erica Sunshine Lee will remind you of Katie Melua, Adele, Duffy, Brandy Clark, Miranda Lambert and The Band Perry. However you will also hear a side of soul-based pop, and rock along the way like Dixie Chicks and Sara Evans. If you like the above bands and musical styles you should definitely check out "Southern Amendment."
This latest short but sweet "Southern Amendment" release by Erica Sunshine Lee is a solid release with many feel good grooves with a powerful songwriting feel. Lee has many impressive talents and is a marquee artist. It's hard to find any weakness when you look and listen to her. Her amazing spirit clearly evident in her music. Erica Sunshine Lee stands for good and positive things, and her "strong musical spirit" that gives us a fresh glimpse at an amazing artist.
Purchase Link: https://itunes.apple.com/us/album/southern-amendment-ep/id1007603284
URL: http://www.ericasunshinelee.com/
Official Rating 5/5 Stars
Andrew Porter