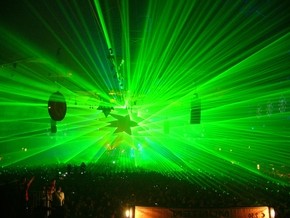 Unless you follow house music and EDM particularly closely, or have a very firm grip on the Miami club scene, you may not have heard of Bingo Players, a spirited group that, following the tragic death of one of its founding partners, now consists of only one member. The New Times of Palm Beach recently did a write-up of the group's presence in Florida and went so far as to suggest Bingo Players represents "a hope for the county's club scene."
As EDM fans are well aware, if you can get the Miami area buzzing like that, you may have something good going for you. So who exactly is Bingo Players, and might the group in fact offer a new hope to the club scene for the whole country, rather than a particular county?
The band's website describes Bingo Players as having essentially been raised on electronic music. Maarten Hoogstraten hails from the Netherlands and grew up with an obsession for vinyl records, then CDs, and ultimately electronic music. As a teenager, he met Paul Baumer and found out that they were both experimenting with some very similar sounds using the music software ProTracker. Thus, like any like-minded young musicians with similar talents, they started a band, and in 2006, Bingo Players burst onto the club music scene both in Europe and abroad. Their biggest hit came in 2011 in the form of "Cry (Just A Little)," though singles like "Rattle" and "Out Of My Mind" may also be recognizable to fans of the genre.
As to where the band's peculiar name (which is all the more peculiar now that it refers to a single musician) came from, that much is unclear. Although, western Europe does have a pretty active bingo scene, not just in person but, increasingly, on the web. Online platform Gala Bingo even has a Champagne Room VIP area where folks in celebrity circles can game to their hearts' content. Really, it's just a room with some premium offerings, rather than an exclusive environment, but nevertheless it's easy to imagine young men who gained fame as "Bingo Players" indulging in such a place. As it is, it's not completely clear where the name from, only that it's one that still seems to be on the rise in the house/EDM world.
Sadly, Bingo Players lost one of its founding members in 2003 when Baumer unexpectedly passed away from cancer. It's been fairly well-documented, however, that Baumer requested Hoogstraten continue making music in the group's typical fashion and under the same moniker. It's certainly a credit to Hoogstraten that he was able to follow through on his friend's desire, not just with an effort to keep the group afloat but with the real production of new music since 2013.
In 2014, Bingo Players produced one of its biggest hits in the form of "Knock You Out," on which Sia provided guest vocals. Hoogstraten told Phoenix New Times that the lyrics—they include lines like "I get stronger every day"—were actually written in part before Baumer's death. However, the song has since become an appropriate and cathartic one for the producer. With messages that can be interpreted generically or with regard to the Bingo Players tragedy, as well as a catchy melody and intoxicating hook, "Knock You Out" represented a powerful new step for Hoogstraten. It could also signal that Bingo Players is just getting started.