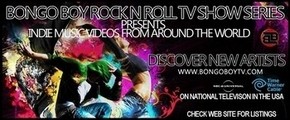 The Bongo Boy Rock n' Roll TV Show Presents Indie Music Videos From Around The World is a syndicated TV show on 36 TV channels in The USA. Bongo Boy TV Broadcast on prime time. Your music video is 100% guaranteed to air when accepted. Distribution is provided by NBCUniversal Comcast and Time Warner and other cable companies giants.
No contest, No Voting, just a DIY Promotional Sponsorship. This is MTV when it was cool and your music video can be seen by 15 Million Households TV sets in The USA PLUS on GO INDIE TV ROKU Channel in The UK, CANADA and The USA.
It doesn't stop here, this promo campaign comes with lots of exposure and professional hype for YOUR MUSIC. Bongo Boy TV also includes reviews of each music video, publishes the reviews in music magazines like Nor'easter Entertainment Magazine, Steel Notes Magazine, Skope Magazine and others. Bongo Boy TV also runs ads in those magazines as well in True Tea Magazine; all to tell readers about your music video on Bongo Boy TV.
Music Video Reviews are provided by the most supportive International Independent Music reviewers and are also published online and shared on social medias outlets before the TV show premiers on Television. The official press releases are shared and published with online music hubs. Bongo Boy TV advertises about the TV show series worldwide in Asia with Bongo Boy Records Compilations Volumes series; a digital album releases in Asia. PLUS each music video guest's web site and/or facebook page links are hosted on Bongo Boy TV web site home page permanently. And to top it all off any TV guests that send in their application to http://www.whoisthesinger.com/ and they use the promo code "Bongo Boy" will be featured on their site automatically and be entitled for a free exposure on social media.
What are you waiting for? The Bongo Boy Rock n' Roll TV Show Presents Indie Music Videos From Around The World is now in production for the Fall/Winter season of Television. Each episode is EVERGREEN and when new channels are added your episode will get picked up by later at no charge to you.
OPEN GENRE – RADIO FRIENDLY – THE TV SHOW SERIES IS RATED ALL AGES
TO SUBMIT: Email submit@bongoboytv.com your direct link to your music video and contact TODAY! MUST Include Reference code: SKOPEFALLTV
DIY sponsorship $125.00 per region of broadcast. Bongo Boy TV offers 2 regions NEW YORK CITY and NATIONAL TODAY for SKOPE READERS $200.00 for all regions and TV channels within, 2 separate TV episodes, all promotions included. Music Video must be accepted first. All Submissions are always FREE.
The TV show series is produced by Grammy Members Gar Francis and Monique Grimme and is sponsored by Bongo Boy Records.