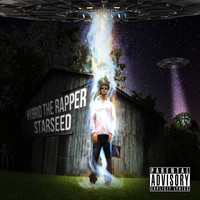 With "Starseed" Hybrid the Rapper proves he is a rapper without peer. Throughout the album "Starseed" focuses on both the difficultly of the current reality while possessing hope for the future. By keeping the balance between these two diametrically opposed worlds, "Starseed" offers the promise of a better tomorrow. Hybrid the Rapper uses this conflict to inform some of the best moments of the album, describing the bleakness of reality as glimpses of better world help these characters continue to survive.
https://hybridtherapper.bandcamp.com/album/starseed
"seeing double" starts the album off on a strong as the sample conjures up both a dreamy detachment from reality, reveling in the joy of nostalgia. Country tones inform "Struggling & surviving" and nicely pair with the overall narrative of the song, mentioning the sadness of life and moves across the deep south. Taking on a paranoid tone is the discomfort of "hardWORK" whose tension is palpable. By far the highlight of the album is the comforting title track "Starseed" whose casual leisurely groove is quite infectious. Following up "Starseed" is the dreamy "The cypher" complete with an eerie atmosphere. "1979" opts for brighter pastures as the sounds are reminiscent of late night neon tinted hues. Continuing in this vein is the dance orientated work of "Turn up". Ending things on a reflective note is the subdued "Blood runs dry".
"Message to my Son"
https://www.youtube.com/watch?v=-CuAGJgInZ0
Biblical imagery, pop culture references, Hybrid the Rapper offers a careful analysis of the general malaise infecting the world. Ever the optimist, Hybrid the Rapper's "Starseed" shows a potential path away from the present darkness towards the light.
https://www.facebook.com/hybridtherapperspage
Posted by Beach Sloth