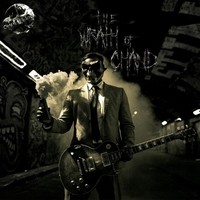 Chand K Nova shows off his considerable chops on the all-encompassing work of "The Wrath of Chand". Without saying a word Chand K Nova's album is able to embody all that is good about rock. Rhythms are kept slow and steady displaying a great deal of power.
"N.V"
https://www.youtube.com/watch?v=0qOL1ItYGKI
Audio:
https://soundcloud.com/chand-k-nova/sets/the-wrath-of-chand
Absolutely no time is wasted as "The WRATH OF CHAND 2" opens the album up with righteous fury. From the colossal drum to the gigantic sound of the guitars, everything fits into a perfect head banging rhythm. Showing off his versatility comes the delicate guitar work that help bring it into increasingly more psychedelic territory. The aptly named "Restless Savage" opts for a rawer, more brutal sound. Going into a playful rush is the fantastically fast "Hurrikane". More angular work appears on "N.V" which at times references the taut dynamics of Post-Rock. Distortion reigns supreme over the spaced-out infinity of "Different Faces Of The Same Beast". "Chasing Shadows" goes for reflective territory as the song careens between control and chaos. By far the highlight of the album is the infinitely catchy work of "Fire With Fire". Opting for the opulent is the grandeur of "EASTERN BLAZE" whose echoing work is oddly lovely, pairing nicely with Chand K Nova's careful guitar work. Bringing things to a close is the sprawling work of "ABOVE THE DOWNWARD SPIRAL".
Buy:
https://itunes.apple.com/us/artist/chand-k-nova/id825916771
"The Wrath of Chand" is the kind of album that deserves to be played at the loudest possible volume.
https://twitter.com/chandknova
https://www.facebook.com/pages/Chand-K-Nova/150827631654486
Posted by Beach Sloth