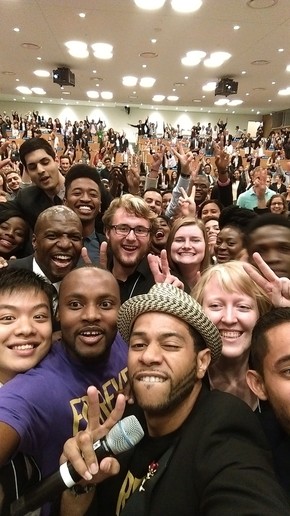 This August, Alexander Star was the featured keynote performer for three nights at the seventh annual Millennium Campus Conference, which was held at the United Nations Headquarters in New York, NY.
This conference gathers student leaders from over fifty nations to collaborate on ways to aid in global development. It also also features the Global Generation Awards, in which accomplished celebrities and global leaders are honored for the positive change they facilitate. Past winners range from US Secretary of State John Kerry and 2011 Nobel Peace Prize Winner Leymah Gbowee to Kristin Davis and Kenneth Cole.
The Millennium Campus Network partnered with Alexander Star last year when he wrote the song that would eventually become the theme for their 2014 conference, the anthem titled "This Is My Era." After the song was completed, MCN and UNICEF joined with team Alexander Star to put together a powerful music video that was shot in over a dozen countries around the globe!
Fast forward to MCC15 and you get a week of well-seasoned, incredibly impactful performances by Alexander Star that rocked the UN, turning conference rooms into concert halls!
Attached are a few photos that capture impactful moments and a video recap of Team Alexander Star's UN experience, including when Terry Crews joined Alexander Star on stage and danced with him to "Forever Wave," a record Star would like to pitch as a potential theme song for the Olympic Games.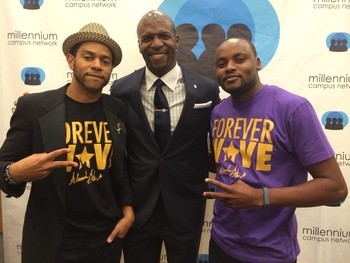 The Alexander Star brand strives to create clean music that uplifts and inspires a new generation of industry leaders, merging "doing what's cool" with "doing what's right" and unifying generations through music that can be enjoyed and appreciated by people of all age groups. His boldly profound artistic niche (lacking profanity, reckless ignorance and the degrading of women) enables A. Star to perform his music in a wide variety of non-traditional venues in which most adult artists couldn't even dream of showcasing. As one fan described his music, "Alexander Star is rated 'E' for 'Everyone'."
Alexander Star performs at the United Nations with Terry Crews for MCC15
https://www.youtube.com/watch?v=XiNMsNxP-Nw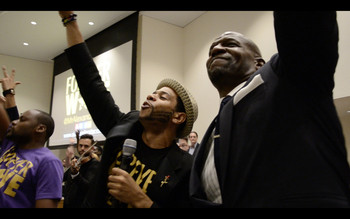 Alexander Star tours internationally as the Chief Brand Ambassador of AFR Clothing – a social entrepreneurship that provides tuition scholarships to children in need in Africa. Together, they are promoting education and social awareness with the Amani Hope Tour and have taken their talents to schools like Harvard University, University of Chicago, Howard University and University of Miami to name just a few.
Having now added the United Nations to his venue checklist, Alexander Star's influence continues to grow as students book the Amani Hope Tour to come to their campuses around the world.
Go to www.AlexanderStar.com and follow the movements of the man whose music will transform the next generation!