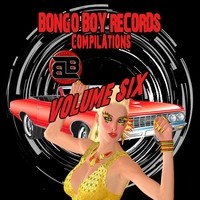 Bongo Boy Records celebrates the current solid state of indie rock with its Volume Six Compilation. For this particular collection it carefully selects a plethora of bands giving it a wide selection from full-on physical sound of Jon Mullane to the gentle work of Hizreturn. Carefully paced Volume Six shows that Bongo Boy Records can put together an impressive mix-tape of sound, harking back to earlier sweeter more personal times with music.
Promo clip – for Jon Mullane Body Rock:
https://www.youtube.com/watch?v=H58TtDfJ7Mk
"Catch Me" by Barbara Kiss opens things up with the highest possible energy. The song is giddy and is able to barely restrain itself as it captures a sense of affection. For a more physical experience there is the dance-rock work of Jon Mullane, whose "Body Rock" delivers on its promise. Absolutely infectious it displays a keen knack for the sort of rock 'n roll bacchanal embodied by DFA's extensive roster of bands. After two absolute rushes of sound Amycanbe's "Truth Be Told" offers an introspective, summer-hazed languid tempo, with particularly effective horns. For the collection's heart there is the tenderness of Secret Lie's "Filling Spaces". Gingerly hushed work appears on the emotionally charged "Don't Want to do it Again" whose strings help emphasize Daniel Amedee's earnest vocal delivery. Ending the collection on a strong note is the celebratory work of Inches From Sin with "Move On".
On Volume Six Bongo Boy Records shows off the cream of the crop of indie rock.
http://www.bongoboyrecords.com
Posted by Beach Sloth