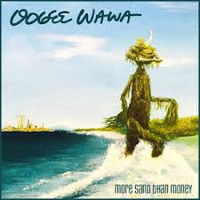 Long Island's Oogee Wawa serves up an interesting brand of surf n' turf on More Sand than Money; 311 feels to be the prime influence with shades of Sublime and Everlast lingering just below the horizon. Heavier riffs play out across clean reggae melodies as the musical cornucopia serves up rap, ska, hard rock, alternative and fusion elements without much division.
"Let It Out" sees guitarist JP working up a scruffy, distorted groove before dipping the ladle into a twinkly, melodic sound that shucks in tandem with the crashing drums and plucky basslines. The vocals range from harder, vulgar rhymes to clean passages with a noticeable juxtaposition maintained between the two. It's not bad, but the style mimics 311 to a point where almost no originality is present at all. Much more of the same is provided on "Pretty" which recalls the subtle grooves of 311's "Amber" with some harder riffing coming into play as all three band members contribute vocals to back-up MC Jesse Lee's insistent raps.
The title track has a bigger chorus hook with plenty of harmony splitting the melodies and a little electronic ambience coloring in the background. It sounds a bit like a more rap-influenced Less than Jake or the Mad Caddies with those twangy, stalwart ska licks and plenty of bouncy buoyancy. This track helps to spark a noticeable energy increase on the album that really heats up with the psychedelic surf riff of "Jump Off." The gritty lyrical flows chew more of the spotlight than the croons and the watery wah-FX on the guitars and dirty grooves create a real winner in the process. This kinetic electricity is retained throughout the majority of "Regrets," a tune all about the hard drinking life. Those surf-y 60s elements come on like a tidal wave rush with killer punk rock tempo runs and Chad's fluid low-end thrust maintaining a balanced fury between calm and chaotic.
A metallic guitar solo kicks off "Damage Baggage" before the tune slips back into the usual reggae jive. Lyrically, this one tackles the subject women with a bit of Sublime's charming sleaze (the music isn't far removed either). It's hard to hear a hook on this one, even if the vocals slink through a lower register than usual. If this track is darkness defined, "Feelin' Alive Today" is a total mood shifter with a touch of The Specials running in its soulful ska veins with just enough rap added for differentiation. Perhaps one gripe to be made against Oogee Wawa's compositional tactics is the fact that they always drop into the same ska/reggae trappings from song to song, even if they introduce a unique part beforehand. For instance "97 Sh!t Storm" and "Tips" both possess undulating, snakelike guitar leads, but they never get the time they deserve in the limelight before the music reverts to the same old, same old. "Badrinath," "Late Night" and closer "Pack the Van" could be basically be Sublime with Rome outtakes and nobody would probably question it.
In the end, it's the lack of innovation from other bands that renders More Sand than Money a decent, if not essential, pick-up. The band can definitely play and when they tinker with harder, surf-rock elements and punk things get pretty exciting. Unfortunately, the rest of the time they can't seem to find a unique, individual sound. Still, this is a good disc that's worth your time if you like 311, Sublime and other ska/rap/punk hybrids.
8 out of 10 stars.
FACEBOOK: https://www.facebook.com/OogeeWawa
Jay Snyder