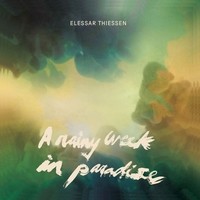 Elessar Thiessen's "A Rainy Week In Paradise" is a collection of casual cool summer songs in the style of his fellow countrymen like Mac DeMarco and Alex Calder. Using a polished pop style Elessar Thiessen recalls Lambchop's emphasis on group play. Vocals are smooth lyrics are articulate focusing on affection. Indeed the album is quite lovely as Elessar Thiessen's jazz rock fusions bare great fruit, with nimble guitar playing and tidy keyboard work.
Stream and share the record:
https://soundcloud.com/elessarthiessen/sets/arainyweekinparadise
Staying true to its natural roots the album opens up with the quiet rainy day hush of "Another Love Song". With only the absolute essentials (the outside rain, Elessar Thiessen's intimate vocals and only a guitar) the song is restrained. This comes into full bloom with the colorful work of "I Need a Woman". Akin to a valentine is the tenderness of "Lover Dear". Here Elessar Thiessen taps into the sort of immaculate arrangement akin to Jon Brion's work. Such a languid groove helps make "You Girl" one of the highlights of the album as it has a breathy atmospheric vibe to it. Restrained and delicate "Sister" is by far the highlight of the album. At first rather quiet the piece has a gradual satisfying build to it. Bringing the album to a close is "The Perfect Bloom" whose introduction of flowing water ends things on an introspective note.
For a glimpse of a new song taking shape, watch the video for "A Song in Carlsbad": https://www.youtube.com/watch?v=fxkfz8X–9Y
Wholesome and sweet, Elessar Thiessen displays a keen awareness of pop music throughout "A Rainy Week In Paradise".
Find him on Facebook: https://www.facebook.com/ElessarThiessen?fref=ts
Posted by Beach Sloth