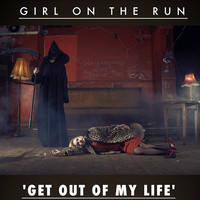 Girl On The Run's "Get Out Of My Life" rejects the negativity that can influence a life and embraces positivity. Such things can be difficult to do. Oftentimes the negativity of life can feel all-encompassing as if there is no escape. Ultimately however it is up to each individual to find their own happiness in life. Nobody can do it for them. One of the most challenging ways of doing that is to cut those who bring those depressing notions into a life. By cutting those people out one can find a greater sense of joy. With this message with an absolutely infectious hook, Girl On The Run is able to explore that concept of happiness in "Get Out Of My Life".
Girl On The Run "Get Out Of My Life"
https://youtu.be/LX9viog95cA
Vocals are the heart and soul of the song. Everything flows out of Marie Virginie Pierre's spirited lyrical performance. The guitars give the song an additional sense of urgency. From there her voice helps to drive the song forward. Elements of dreamier guitars help to emphasize her reflection that goes on throughout the song. Importance is given to this reflection to show exactly how a life evolves from one where people were needed to one where the right people were needed. By telling those who ruin a life and ruin happiness to 'get out' a greater sense of freedom can be experienced, with one finding their own way.
With a strong sense of self, Girl On The Run celebrates the happiness of freedom.
Posted by Beach Sloth