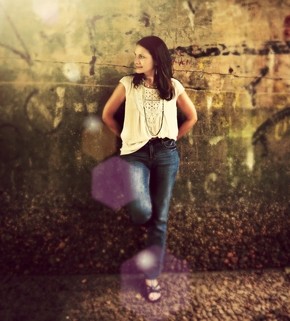 Pat Baer is a true singer/songwriter with Rock & Roll roots where timing is everything. Out of the music scene since the 90s, Pat Bear proves that her new single "Make The Best Of It" was well worth the wait. And the best part is that the topic & meaing behind this new song is so relevant and the perfect anecdote for today. With so much violence surrounding US these days, Pat said it best here: "I think we need to spread a positive note, to be compassionate about people, to change the way our society is going. I am trying to raise the consciousness of the world." Message received, so remember to "Make The Best Of It" people!
J Rae: So I read in your Bio that you were raised on rock & roll back in the 1960's, which is such a great era for music in general. But in terms of the rock and roll, I consider this decade to be one of the best times for this genre. So many excellent bands and wodering who some of your favorites are from this era and did you get a chance to see any memorable concerts during the groovy 60s?
Pat Baer: I went all through school in the 1960's. We had only television and AM Radio until I was in high school. The Beatles hit America when I was in 6th grade, and we couldn't get enough of their music! School dances played hits from the 50's and the 60's, and we were all groovin' to the Rolling Stones, the Beach Boys, and such great groups! That's where I discovered my love of harmonies. I did get to see Crosby, Stills, Nash & Young in concert. I was too young to go to Woodstock, though. I loved the Moody Blues when I was a senior, especially "Knights in White Satin", and I listened to the Beatles "White Album" every night before I went to sleep. Later favorites were The Eagles, Traffic, Santana, The Who, Aretha Franklin, Creedence Clearwater Revival, Joe Walsh & the James Gang, Sting, Midnight Oil, Eric Claption, Neil Young, B.B. King, Alison Krauss, John Mayer, Civil Wars, and so many more not mentioned here. I also like to listen to Celtic and meditation music, especially with a glass of wine while I'm cooking dinner. My all-time favorite albums are David Gilmore's "On An Island", and Pink Floyd's "Dark Side of the Moon".
J Rae: What is it about good ol' rock 'n' roll that caught your attention early on in your life?
Pat Baer: I loved the energy of it! I loved how everyone had a great time with it! I think it was the first thing that got me fired up about music. I had a toy piano when I was five, and I made up rock 'n' roll kind of tunes on that.
J Rae: I read that you had two successful releases back in the 90s and the records were titled "Universal Harmony" and "Gentle Spirit". What was it about these particular albums that caught on with people at that time? And would you mind describing the type of success you experienced in the 1990's with these two records? And are they still making an impact with people to this day?
Pat Baer: When I was 40, I bought a new keyboard, a Korg M1, with an 8-track sequencer. It was heaven to me! I was so entranced by the sounds that these songs all just materialized. I decided it was time to make an album, so "Universal Harmony" came about. These songs were all recorded as instrumental, even though some have lyrics, because I did not own a decent mic at the time. It worked out well, though, and as soon as the first one was completed, I started on "Gentle Spirit", the second New Age CD. I sold quite a few, and they are still for sale. I recently had to order more "Universal Harmony" CD's. Music Choice (cable TV) is still playing songs from "Gentle Spirit". They were also with MUSAK for a while. Nothing special, really… I went into this without a clue, just wanted to share my music. It seems like now there are more people who like New Age music, so maybe I have a better chance with it now.
J Rae: Obviously you've been playing & performing music for quite some time now and as a singer/songwriter what have you learned along the way? Any valuable advice to up and coming artists/musicians?
Pat Baer: Just let the music happen! I believe that a songwriter is inspired by God, or whatever or whoever you call your "higher power". When something comes to me, it usually starts as one line, or a chorus, or part of a verse, or even just a riff. I elaborate, and try to record it. My goal is to make it sound most like what's in my mind. Then I let it age for a while. During this time, there are always more things that I would like to add to it. The song is always in my head, going around and around until I record it again. After it's mastered, I sometimes become obsessed with changing something, or adding something, until I finally say, "that's enough!". You have to just let it be at some point.
J Rae: I noticed that you took a long break from releasing any new music after the releases of your two records in the 90s and wondering why? What were you doing during this time and were you still involved with music in some way?
Pat Baer: Things got in the way. We babysat two of our grandchildren who were born 8 days apart, then 3 years later, another one came along, and we watched him too. I also had a part-time job, and a wedding trio for 17 years, and I played in a church group for 20 years, and I helped care for my aging mother. Any artist needs free time and quiet moments to be creative. A tight schedule and stress can keep creativity at a minimum. So when the time was right, I started recording again. Some people asked me why I was giving up music. But I wasn't giving music up, I was getting into MY music again. I am very happy with this time of my life! Synchronicity is taking over! Things are finally falling into place.
J Rae: So you have a brand new single out called "Make The Best Of It" and wanted to know what made you release this now and what does this song personally mean to you?
Pat Bear: There is so much violence on the news and media, TV & movies, and I have a difficult time watching it. I think we need to spread a positive note, to be compassionate about people, to change the way our society is going. I am trying to raise the consciousness of the world.
J Rae: I couldn't help but notice that you have grandchildren singing background vocals on "Make The Best Of It". That has to be some crazy, good feeling and wondering if you could put it into words for the Skope readers?
Pat Baer: I thought the song needed kid's voices at the end, so I asked my three oldest grandchildren, Warren, Sabrina & Ben, to help me out. Children are our hope for the future! I get chills every time I hear them singing at the end! I hope everyone feels the same thing, and that they take that feeling with them.
J Rae: "Make The Best Of It" is not just your first single but also a full album and was wondering how this record came about? What inspired you or pushed you to record this new song and album?
Pat Baer: "Make the Best of It" and "Turn It Around" are the two newest songs on the album. Some of the others are 20 years old. It's taken me a long time to get this album together. I think the time was right, so it came about. I believe it is supposed to be now. When everything is going well, and you don't have to try to swim upstream, that's when you know you're going in the right direction.
J Rae: Much of your music has a very relaxed, peaceful and positive vibe that makes the listener feel good. Dubbed by some as Adult Contemporary, where does this Pat Baer side come from especially since you were a rocker girl in the 60s?
Pat Baer: Not sure if I really fit into any genre. I think I'm just a songwriter! I like to have positive messages in my songs, and like to leave people with a good feeling. Some songs are just fun, though.
J Rae: I see that you're from New Jersey and wondering if you're a Jersey girl all the way? Have you always lived in this state and what is it about Jersey that's special to you? And who is your favorite NJ-based band and/or artist?
Pat Baer: I was born in Atlantic City, NJ, raised in southern NJ. I lived briefly out of state and really missed the ocean, the bays & waterways, the people, the proximity to major cities, and my family. So I've been here ever since the early 70's. I am a true Jersey Girl, and Bruce Springsteen, or course, is my favorite NJ Artist! I love the wild aspects of the pinelands and the meadows, and my song "It'll All Be Going Away" is about the pinelands and the untouched land in NJ. The environment is something that we have to care for before it's gone.
J Rae: With "Make The Best Of It" out now, what are your immediate plans to help promote this single and album? What's next for Pat Baer?
Pat Baer: I am under contract with Laura Cheadle of Starving Artist Promotions. She has brought me farther than I ever imagined, and I am so happy to have her on my side! Thank you, Laura! And thank you, J Rae, for taking the time to interview me for Skope Magazine! My plans are to continue to make music, in whatever form comes to me. Aside from that, I will just wait and see what happens next! Life is so good!
https://www.facebook.com/patbaermusic
https://www.reverbnation.com/patbaer
By Jimmy Rae (jrae2@att.net)