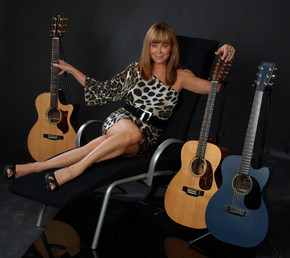 "I'm just fiercely independent and I like the way we've approached things in the past. Pacific Records and myself have control on the artistic direction of the material and we've built great relationships with players who work with us, programmers who have been loyal, and audiences who support us," says Donovan who continues to call the beautiful Okanagan home.
The journey has included chapters where creative relationships with songwriters like onetime star VJ Erica Ehm and her pal Tim Thorney, who were the toast of the scene during the heyday of CMT in the nineties, but life has also handed Lynne Taylor Donovan her share of challenges.
A breast cancer survivor, Donovan knows full well how precious life is and this gifted Canadian artist has every intention of following the muse that has made her a resilient and respected artist whose sound seamlessly crosses musical and geographic borders.
Yes borders, both geographical and musical borders and boundaries. A quick glance at what has transpired with her seasonal hit Dear Santa backs that line of thought up again. Over 50 reporting stations in Australia have been playing Lynne's moving and timely Christmas and holiday tune and in Canada it's been a pick with a number of syndicated specials.
"I don't think I'd do anything differently and an artist can't ask for anything more than audiences to respond in a positive fashion to what one is creating," insists an artist who knows of what she speaks.
Lynne Taylor Donovan, the story continues. Stay tuned for the next chapter.