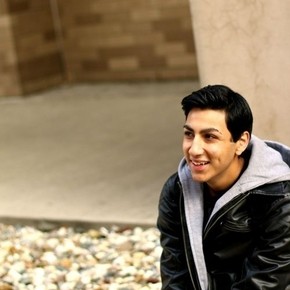 If motivation were a car Hass Hammoud would drive it till it reaches its full capacity.
Since he was a young boy music was always a tremendous draw and it continued through his College years. But the real opportunity to delve into his love of music came by the way of a tragic accident. He was struck by an erratic driver and had to be transferred to a hospital via a helicopter. While in recovery he was given a midi keyboard that he took advantage of and mastered the instrument on his own. He attributes most of his rehabilitation to the healing powers in music.
"After my accident, I was in bed rest for almost an entire year and I slowly had to regain my ability to walk again. During my recovery, I spent a lot of time playing the piano, and ultimately taught myself how to play. After playing for years, I was able to compose my very own songs. "
Hass comes from a musical family to begin with. His younger brother is a guitarist and an amateur producer. And his older brother was a DJ who introduced Hass to producing music using FL Studios. He does admit though that his family expects him to complete his pharmaceutical studies yet at the same time they support his love of music.
At this point of his life he began to delve into the various programs to produce music. His cousin introduced him to Logic Pro and he mastered that as well. He learned how to utilize music software programs by creating different elements and making his own synths. Soon he was able to master his own tracks and eventually release his own music.
In 2012 he entered a remix competition offered by Nueva Digital. It was for the track "Choice" by E-Spectro. Even though he did not win the competition the manager liked his remix and decided to release it on a separate album. It would be featured under the title "Hass Hammoud's Dark Horse Remix". The producer also signed Hass to ModaTop Records for his remix of the single "Zombies".
Following this he released two new bangers "Virtual Renaissance" and "Mute City" which were put out by Cloud of Silence Records. He has even given a term for his music called Insidience. Which basically means the fusion of house and rap, but with a unique EDM twist. It is a fusion of trance, house, dubstep, and rap. His work is featured on major sites like Beatport, iTunes, Amazon etc.
At the present time he is due to release his debut album entitled "The Vanilla Dome". The album can be heard on his official Youtube channel @ https://youtu.be/bBezBYsuoUc and on https://soundcloud.com/hass-hammoud
The album contains twelve tracks that feature dance styles like trance, progressive, house, dubstep, electronic dance, and trap songs with a nice twist. He is also working a second album entitled "Tech Rehab" which is more steeped into trance / rap elements. Hass is also looking to break out another album called "Global Trinity" which has a progressive/house sound.
Music began to play a bigger role for Hass after he graduated from Wayne University with a Bachelor of Science degree. There were very few opportunities in the field and he took a more hands on approach to his music. Even though he is still studying pharmacy he considers himself a full time musician and producer.
"I cannot live the rest of my life not knowing what the joys of creating songs can bring to the table. I have sacrificed virtually everything in my life to continue making music, and I simply do not wish to remain doing anything else other than that. I want to maximize my potential by showing the world what I have to offer, regardless of the obstacles I may face down the road."
Hass also has a deep passion for his native city of Detroit feeling it has lacked the musical power it once wielded. The city at one time was a leader in the music industry breeding multiple genres of talented musicians. But as of late that is not the case. Hass is looking to change all that and bring Detroit into the music spotlight once again. He even gave it a name "Opportunity Detroit".
Besides producing music he also enjoys singing and rapping. He has yet to incorporate his voice to any of his music but you never know. He usually raps and sings to his team of singers/rappers to give them an idea of what he is looking for in a production. Hass hopes to be an inspiration for his drive and desire to become a force in the music world. Presently he is on the hunt for a record label who is willing to work with him and bring more awareness to his musical talents.
by Nick Christophers