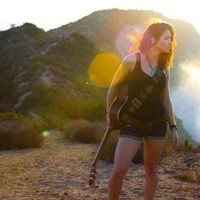 Have you ever had the pleasure of being able to close your eyes and step into the world of music made by someone that truly lives for the moment? Having been able to review just a few albums over this past decade…I can tell you that I've definitely had this experience myself; and I can also tell you it's a lot rarer than you might think.
Audio Listening Link:
https://soundcloud.com/nataliecevamusic/sets/atlas-ep-1
You might be familiar with the old musical adage of 'album people vs. song people' in the argument for the way people write their tunes. Believe it or not…there's an even more minute breakdown for this age-old debate…there are 'moment people' – and in my humble opinion, solo-artist Natalie Ceva is one of those very types.
Not to say that she ONLY has a single moment on Atlas…cause that's not what I'm saying at all – Natalie has MANY! What I'm referring to is that genuine freedom in music that only a few artists out there can really get themselves to…the one that just keeps you singing and playing whether notes are dead-on perfection, or if the tone wanders…it doesn't matter – just keep it going…keep it AUTHENTIC.
So yep…you got it…I'm saying when it comes to Natalie's music, don't expect perfection; expect an expression of pure musical bliss and you'll be all set to listen to the Atlas EP. Full of hope, inspiration and an energy you won't be able to get enough of, she begins with the title-track and immediately begins to fill up the room with the sound of an artist who's truly embracing her time. Honestly, it sounds like she always HAS embraced her ability to entertain – Natalie sounds amazingly comfortable and confident, charging into the verse and chorus full-on.
The fear of performance or wondering whether she can rise to the occasion has long left Ceva…I love how she's managed to make her music feel like she's the only one in the room…like she's singing and playing only for herself. Case in point – "Bone Marrow" still manages to build from its isolated beginning, yet it still feels as intimate as a one-on-one with Natalie despite the piano and drums accompanying her somber guitar and the sweetness in her voice. Lyrically, this indie-folk-rock artist is absolutely nailing it here…this is a beautiful love song written in a truly poetic style and delivered with imploring emotion that really digs into your skin and into your bones. Check out the video below!
Yeah…I don't know…you can call me crazy all you like but I'd much rather hear how an intelligent artist with instincts as sharp as Natalie's are would approach "Break Me Out" than to have it all twisted up with intense studio-magic that might put her authenticity at risk. The music studio…aka the Prozac-nation for REAL artists…the assimilation of the creative…absorbing them into the norm; whomever worked with Natalie deserves a lot of credit for letting her find her own way and not tinkering all too much with her natural sound. The hooks that she's created in "Break Me Out" are freakin' fantastic and she sings this one straight-ahead with a little edge to the attitude in the vocals; great rhythm and melody just past the two-minute mark in a beautiful bridge leading to a short instrumental burst before bringing back the powerfully moving chorus one last time.
For the record…I'm listening to Natalie's album from her Soundcloud page. I use Soundcloud as a musician too…it's perfect for that as many of us know…but as a reviewer it's kind of a funny site. I actually try to minimize the screen for the most part once I've got the titles down in my mind…reason being that the site itself is a lot like the movie-preview that gives away the entire plotline. Take the track of the moment here…"High Hopes" – BEAUTIFUL song…but the wav-form is directly in front of me if I look, giving away hints at her every upcoming move! Of course, knowing a tiny little bit about song-structure myself…in a case like "High Hopes" it gives you that extra added feeling of anticipation; I can see that her sweetly stripped-down acoustic opening is all about to build into something bold and beautiful. With a clever addition of strong bass tones and angelic piano, Natalie Ceva confidently hits some gorgeously unforgettable moments, notes and emotions on "High Hopes" in a real highlight performance that showcases just how capable this songwriter is through her thought provoking lyrics and matching heartfelt delivery.
She's impressed me several times throughout this EP…I think I'm personally leaning towards her more personal, intimate songs like "Bone Marrow" and "High Hopes," but it's impossible to deny how well she hits her stride in the final song "You're My Religion" and the upbeat energy she's brought to "Break Me Out" and the title-track "Atlas" itself. Her confidence never wavers; whether mellowed out or pepped-up, Natalie Ceva gives it her true, honest 100% every time she takes on a song…and I love that. Very impressive effort from Natalie on the Atlas EP…this is a pure-hearted artist that really puts her soul into her tunes; she's giving you everything she's got here and holds nothing back in the music, or in the lyrics. A fearless performer who's truly bold and inspirational to listen to – she's got my respect, 100%.
Find out more about Natalie Ceva at her official page: http://www.nataliecevamusic.com/
Jer@SBS – http://sleepingbagstudios.ca/