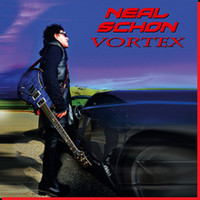 The veteran guitar slinger best known from his lengthy work with Journey, has also been involved in numerous side projects including a recent one working with Carlos Santana. This instrumental release with Neal on guitar and bass also features Jan Hammer and Igor Len on keyboards, and Steve Smith on percussion. Being a double-album, Neal views this release as both his ninth and tenth solo albums. He notes this in the song title NS910.
On disc one, Eternal Love is a nice melodic piano piece featuring Len. Miles Beyond is a tribute to Miles Davis, and has that lovely quirky, somewhat spacey guitar and drum effects. In A Cloud is a slow middle Eastern sounding piece. Awakening is a jazzy fusion styled song. Cuban Fly Zone is a melodic medium paced song, while El Matador has an almost Flamenco intro then launching into melody. Lady M. (first disc) and Triumph Of Love are dedicated to his wife. On the second disc, Mom is a nice acoustic piece. Schon & Hammer is a sort of jam between the two friends. NS Vortex is slow starting progressing into almost shredding. White Light is an acoustic ballad, reminiscent of old English ballads.
Neal certainly has a flair for rock, jazz, fusion, and a little bit of everything else. When you talk to him, you can sense his attention to musical details. While most of the release is electric, there is also some acoustic relief. When it comes to offbeat time signatures, chord structures, timing, note grinding etc., Neal fits in with Vai, Johnson, and Satch.
By R.M. Engelman