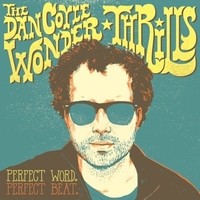 New York City based singer/songwriter Dan Coyle and his Wonder Thrills project delivers listeners a vibrant and literate six song collection with their Perfect Word Perfect Beat ep. Coyle's songwriting isn't content with staking out long explored territory and, instead, plays uneasily at the seldom traveled border between the traditional and subversive. His subversion isn't the burning bridges type; instead, this is rebellion and invention acting as cardiac paddles for an often moribund form. The production doesn't have an assortment of bases to cover, but works well as a balanced statement between the album's primary instruments – the guitar and Coyle's voice.
"God, I Miss You" blows the ep open with an exhilarating blast of loose, amphetamine banjo boxing with equally raucous guitar. It threatens to fall apart throughout the entire track and never quite does – there's actually something quite evocative about the approach. The music nicely approximates the sort of amorphous, careening longing described in the lyrics. Coyle's vocal has similar appeal and its emotive edge helps make this opener even more memorable. "Phases of the Moon" is more of an abashed folk song that foregoes stylistic experiments for an uncluttered approach. Coyle's lyric does a stellar job of visiting familiar themes without relying on much stock phrases and imagery.
While "The Difference" begins adopting a straight-forward folk approach, it's less than a minute in when Coyle overturns listener's expectations. The playful harmony vocals help accentuate the song's humor, but Coyle takes a step further by introducing a brief spoken word call and response with the vocal. It's a jarring addition, but will pull so few listeners out of the song decisively enough to rank it as a major blunder. The next song "Hey There Mama" alternates passages of quasi-talking blues with bluesy interludes of stuttering guitars and near-scat singing. This track bears the unmistakable hallmarks of authentic 21st century blues and succeeds best as a potent cocktail of Texas boogie and Beat poetry.
A delicate dance between guitar, banjo, and voice lies at the heart of "Surrounded". This is another track in an arch-traditionalist vein, but despite the lack of a singular musical quality making it unique, it bears an idiosyncratic touch. Coyle's lyric has a dramatic balance between the specific and obscure that he emphasizes with another memorable vocal. The ep's conclusion, "Nightclub Towns", implies the autobiographical by title alone. It isn't necessary to plumb the lyrics for signs of the real Dan Coyle peeking out from behind the text in order to enjoy this song, but implication alone helps further strengthen the impression that this release is a clear personal statement. Coyle, once again, opts for an unusual approach by muffling his lead vocal and spiking the track with an assortment of musical surprise. Electric guitar makes an appearance here and adds interesting color. Some of the experiments, like treated vocals, drag the track down some, but if it's impossible to congratulate him for his choices, it's easy to admire him for his bravery.
Bravery is a defining trait of this release. It is a growing bravery, however, and the dawning awareness of artistic powers accompanies it. Some tracks play as advertised. If Coyle doesn't create something new and entirely his own at some moments throughout the release, he comes close. This is one of those albums where failures are ennobled by the boldness of their reach. Dan Coyle is reaching, but he isn't quite there yet.
YOU TUBE: https://www.youtube.com/user/iamasunshinefactory
4/5 Stars
Jason Hillenburg