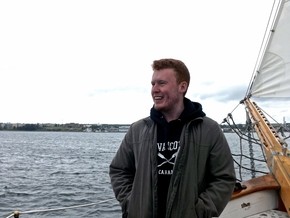 Grab a slice of some raw, alternative energy that's filled with plenty of "exciting" emotion. That would best describe The Last Hope Road Show as the band incorporates elements of folk, rock and pop with some eighties influence thrown in just for the hell of it. This Canadian-based duo just simply loves to write songs especially ones that cater more to say barroom singalongs and arena anthems. So grab your drink of choice and "Shout It Out Loud" as The Last Hope Road Show rolls along.
J Rae: So how did the band name The Last Hope Road Show come about?
TLHRS (Ryan): Fortunately I am the one taking part in this interview because the alternative would leave you with a Noel Gallagher-esque rant condemning the state of modern music and all of the rubbish flooding the radio channels proclaiming our "road show"(for continuities sake) the world's last hope.
I just think it sounds cool.
J Rae: I saw that the group resides in Canada and so wanted to ask then how is life up there?
TLHRS (Ryan): It's a barren winter wasteland devoid of life, love, and hope, overrun by Godless plaid clad poutine enthusiasts.
J Rae: Your sound includes many different elements that range from rock & pop to folk. What would be the best word to describe The Last Hope Road Show's style of music?
TLHRS (Ryan): Well this is a difficult question to answer. Sometimes I write a song on the acoustic guitar that makes its way to the worldwide Web unscathed by the pop rock ensemble. Alternatively, well it does not. Earlier I stressed continuity which is strange for someone in my position given our catalogue is the antithesis of consistency. The plan at some point in the game is to find a defined sound somewhere between the two…don't hold me to that.
I guess I want the answer to simply be "exciting."
J Rae: When listening to your songs I noticed that they all seem to have a vintage and retro touch. Was this the intention all along and if so why is The Last Hope Road Show attracted to an older style of sound?
TLHRS (Ryan): Yeah there's some eighties influence that has crept up, but we're taking something for that.
J Rae: I also picked up on a rawness factor both musically and vocally when taking in your tracks on Reverbnation and so my question is where does this raw energy come from?
TLHRS (Ryan): This is a good question. For me the most important part of the songs comes from the energy; that fundamentally being the aggression in the performance and the rousing or biting lyrics. Listening to the tracks you will surely notice we aren't the classically trained musician type but instead taking the vaguely punk rock inspired approach of picking up a guitar, playing it hard and singing sweaty shouted choruses that would be appropriate for barroom singalongs or arena anthems.
We aren't all too concerned with the technicals as much as we are the emotion surging through the tracks. I wrote a song as my sort of mission statement on this question in fact where in one of my rare earnest lines I shout "We'll write songs together, what better place to start? All you need is pen and paper, four chords and a bleeding heart." So if I wanted to provide an extremely cryptic answer I probably would have simply typed those.
J Rae: What are the names of the members in the band and what special quality does each member bring to The Last Hope Road Show?
TLHRS (Ryan): Well I'm Ryan and I bring a guitar, occasional harmonica, loud shouting and allusion packed, pretentious lyrics. Colm brings organs, synths and annoying pop earworms. After that we offer free Tim Hortons coffee to anyone who will play with us.
J Rae: I know that the group thoroughly enjoys writing songs and so what is it about the whole songwriting process that you love so much?
TLHRS (Ryan): I think what I love about the songwriting process is that it isn't really much of a process, which has its pros and cons. I sort of think of a phrase or a line that I really like and when the idea is good it all just comes together rather quickly, alternatively I find it quite challenging to set aside time for song writing and then coming up with something that is truly inspired, although these sessions sometimes set the groundwork for interesting tracks to come.
The spontaneous idea approach certainly has advantages like for instance it's pretty helpful to have a burst of inspiration when your say on a train, because then you get to fill your notebook to pass the time and most importantly you're writing a song on a train! Which has an air of Dylan/Guthrie romanticism about it.
J Rae: I see that The Last Hope Road Show has placed a few songs in commercial placements and so would you mind explaining this in further detail for all of the Skope readers out there?
TLHRS (Ryan): You have to do something with the Christmas songs. I just don't see "Five Hard Nights in Mexico" or "Madhouse Shanti" getting in on the Sears rotation.
J Rae: What do you guys like to do when not playing music together? Any interesting hobbies?
TLHRS (Ryan): When we aren't playing music? It'd have to be writing then. In all seriousness though we really enjoy entertainment on all levels. We're working a hockey podcast(my Canadian is showing) where we basically will get angry about a variety of things, and additionally we're scheming up a possible music podcast where we are mostly positive & pleasant people not consumed by an un-tethered rage about our favorite teams' persistent failures.
J Rae: Any big plans for the summer?
TLHRS (Ryan): Well we're hoping to start working on our first full-length album shortly that should occupy some of our summer and all the remaining hours will be spent waging war with each other over the album title.
J Rae: Are you currently working on any new songs or projects at the moment? Will you be playing some shows and maybe hitting the road this summer? And hopefully not for the last time!
TLHRS (Ryan): For sure! There's always new songs in progress somewhere, in fact pretty much every day some form of music is being shared whether it be thirty seconds of humming or…actually it's usually that. I just wrote two songs in the past couple of weeks; one was about what's wrong with the suburbs and the second was what's wrong with the city so I'm not entirely sure where to go from there? A tale of heartbreak in the jungle perhaps? Elsewhere, Colm is working on a Nazi Germany set epic and a Celtic rock inspired tune that is destined to become one of those barroom singalongs I mentioned earlier.
Ya know? Consistency?
As for hitting the road, nothing is planned yet but we probably should get on that to live up to our namesake.
Cheers, Ryan & The Last Hope Road Show
https://www.reverbnation.com/thelasthoperoadshow
By Jimmy Rae – jrae2@att.net