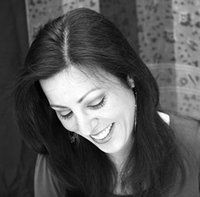 Performing throughout the United States, Canada and Europe, Jodi Krangle has lent her talents on several albums including: six albums from Chris Conway, who is also featured on this debut album, three albums with Urban Tapestry, and a live album with Play it with Moxie. Jodi's influences are classic jazz era artists such as Sarah Vaughan and Ella Fitzgerald and the smooth pop sound of Karen Carpenter. She also created the well-known website called The Muse's Muse which has won awards and acclaim from various publications.
In Jodi Krangle's album, Time Will Tell, there are many great songs. "I'll Be Seeing You" has a very Frank Sinatra feel to it, just in a woman's voice! It's relaxing to listen to and really makes you think of the past. "Sex and Chocolate" and "Damned" are both very fun songs that you can easily sing along to and smile the whole time! "Alternating Paragraphs" and "Harvest Moon" are both beautiful love songs that you can dance to in the moonlight with the one you love all night long. "Goodnight My Love" was my absolute favorite! This song really makes you think of a passed loved one and you can completely imagine them next to you as you listen along.
Jodi Krangle has an amazing voice and the piano in the background go beautifully with all of her songs; never overpowering but just perfect. Jodi proves she is the Jazz of the new age and I am really impressed. She invokes the image of Marilyn Monroe singing next to a piano back in the days. Her music has a way of tugging at your heart and reminding you of cherished moments passed. Chris Conway is AMAZING and he adds just as much to the songs as Krangle herself. The vocals and instrumentals are beautifully orchestrated together and extremely complimenting of each other. They are all spot on! On a scale of 1 to 10, this album deserves all of the 10 stars that I am going to give it. Fantastic!
Reviewed by E. Szabo
URL: http://www.voiceoversandvocals.com/
5/5 Stars