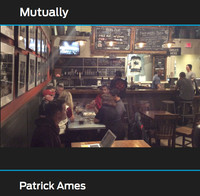 Patrick Ames plays from the heart on "Mutually EP". These are songs that possess raw power through Patrick Ames's earnest vocals and the careful arrangements that pepper the collection. Fondness for the blues is apparent throughout the collection as Patrick Ames adds his own unique twist on the sound.
"Do You Think That You Love Me" starts the collection off on the right note with a sense of play. The band helps emphasize this point with a casual groove slinking on by. Lyrically the song explores Patrick Ames's circuitous path towards music in a rather humorous fashion. From here "One of Your Traps" takes a shadowier turn. With a slightly dusty vibe to the piece courtesy of that magnificent organ and his band does the right thing keeping a low profile. On the heartfelt "America Needs" Patrick Ames gives the band a break and sings straight from the heart. Here his lyrics gain a particular poignancy as he explores the many aspects of life in the USA, what governs, what shouldn't govern, it is rather lovely in its view of the natural beauty that America has in abundance. Back in full the band moves slowly on "Mutually". "You'll Have to Wait a Little Longer" is the most ambitious song in the collection, neatly tying together elements of electronica and country into a satisfying whole. Patrick Ames appears to swim through the cavernous mix while the song takes on a dreamy sensibility.
"Mutually EP" is a fine EP, one that celebrates the past while moving towards the future.
http://patrickames.com/mutually/
Posted by Beach Sloth