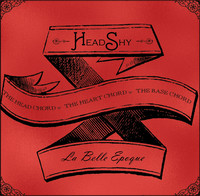 Headshy's triple feature EP is a sound straight from the heart. The sections work together to create an overall moody series. Dreamy textures are explored in full with their lyrics helping to convey a romantic sense, a sense that romance does not have to be loud. Here Headshy opt for the softer textures with the pieces floating on by.
Audio Listening Link:
https://headshy.bandcamp.com/album/la-belle-epoque-triple-ep-the-head-chord-the-heart-chord-the-base-chord
"Sister" introduces the "Head Chord" portion of the collection. Indeed this section feels particularly heady as the lyrics point to a deep and careful analysis of their world. For "Lead Me Home" they expand the roster of vocals giving the song a communal feeling. This attitude continues on the dusty organ of "Requiem for the Living" and finishes off with the comforting "Faith". Almost akin to Blonde Redhead, "Coma" possesses a deep-seeded sense of anxiety. Unease flows from this song and continues on the surreal, classically informed "M. Verre". Most of the "Heart Chord" section consists of a sound in flux, letting in a wider range of sounds to include electronic washes. The quieter sounds that prevail in this section feel appropriate given the dark nature of the lyrics, of a cautious form of exploration. Optimism returns on the final third, "The Base Chord". "The Light That Guides The Blind" opens up this last section with absolute sunshine. By far the highlight of the collection is the clean, jazz tones of "Seville" which nicely balances the quiet with the celebratory. With "Blue Days" Headshy move into cinematic territory. Ending the collection off on an ambitious note is the spacious work of "Perfect".
"Coma"
https://www.youtube.com/watch?v=mHUfHTDiShY
With "La Belle Epoque" Headshy prove themselves to be master practitioners of chamber pop.
Posted by Beach Sloth