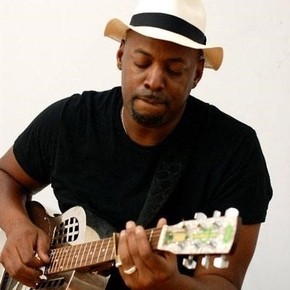 "Soulful music man" Doncker and band will be house band during festival that brings together art, science, and creativity.
Independent Music Promotions today announced that blues and "no wave" legend Tomás Doncker will celebrate his Big Apple Blues record by helping launch the first-ever South by South Orange Festival (SOxSO) during the weekend of June 26-28, 2015. The Tomas Doncker Band, who music blog Bigger Than Beyonce credits with being "a fertile ground for funk, soul, jazz, and blues," will be the house band for the main stage "Causing Collisions" Concert on June 27. The concert is curated by Mike Griot, bassist and CEO of PWI Media Entertainment. Several popular musicians will appear including Will Calhoun (drummer for Living Colour), True Groove All-Star Josh David (currently front-man for The Wailers), and critically acclaimed violinist Alan Grubner. According to New Jersey Stage, SOxSO was "conceived as an opportunity to shine the spotlight on the creative process and showcase the many ways that arts, science, and creativity "collide" to produce innovation." More information on Doncker's performance at SOxSO is available on True Groove's official website.
Watch pro shot footage of their performance:
"The New Day" –
https://www.youtube.com/watch?v=fQxUfjC7_GU
"Back Door Man" –
https://www.youtube.com/watch?v=i5K-hW-SegU
An integral member of New York City's downtown "no wave" scene in the early 1980's, Doncker cut his teeth as a guitarist with groups such as James Chance & The Contortions, Defunkt, J. Walter Negro & The Loose Jointz, and many more. Eventually he began producing studio and songwriting sessions with Bootsy Collins, Yoko Ono, Grammy-nominated reggae vocal group The Itals, and Grammy-winning producer Prince Charles Alexander.
Since then, Doncker has continued to work with an A-list of iconic musicians, including Ivan Neville (on his solo album Thanks), Bonnie Raitt, former P-Funk keyboardist Amp Fiddler, and 2013 Grammy nominee Shamekia Copeland. Doncker and his True Groove label have been featured in a wide range of prominent media, including CNN, Guitar World, The Source, and Huffington Post.
Presented by South Orange Village and Seton Hall University, SOxSO will feature 12 creative and interactive sessions, 15 musical performances, and a "Creative Midway" of unique participatory happenings and community art projects.
This year's theme is "Creative Collisions," intended to showcase the way in which interesting aspects of our lives come from perceived incongruence, yet end up providing for deep satisfaction and interest.
"Creative Collisions is a natural theme for South Orange, where so many different types of people, ideas and sensibilities collide every day to make something incredibly wonderful," says Stephen Schnall, the festival's founder.