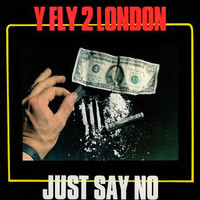 New Jersey-based indie rockers Y Fly 2 London provides a much needed throwback to 80's hair bands that are rarely enjoyed since yesteryear. Clearly, the nostalgia is in just their look alone, but for the foursome – Chris Hopp on vocals, Nick DeStefano on lead guitar, Bill McCloskey on percussion, and Rob Beaupre on bass – they mastered the genre since emerging in the decade of Reagan.
The title track to their EP "Just Say No" brings you a fist-in-the-air-do-what-I-want anthem imagined on The Breakfast Club or Ferris Bueller's Day Off. The opening percussion bangs away at your eardrums with no remorse, and the accompanying music video reminds you of what made the 80's so freakin' loved. Shot on VHS with that old school, grainy look, it is the definition of reminiscence.
"Waiting" has more of that syrup sweet love song that every band has regardless of how bad ass they come. Per the title, you can take stabs at what it's really about. Still, it's that fun number in the vein of "Pour Some Sugar on Me." It is romantic at the core without forgetting to be entertaining. It is probably the most mainstream single on the 5-song EP.
"Don't Runaway" is arguably the most definitive of the rock era. It's a sing-a-long with a boys on a wild night out in the town with catchy horns and an upbeat piano. It's like that prom song to cap off the perfect teen movie. The track has kinetic energy that is meant for the stadium. By no means does it come across as a generic 80's number but it certainly encapsulates he time period best. "Is This Happening?" feels a little too theme song-y, which is not necessarily a bad thing but it was a low point on the EP. It lacked the appealing melody of the other tracks but still maintained an undeniable energy and its guitar riffs still rocked.
The fifth and final song "Treat Her Like A Lady" wraps up the album with the one thing that connected the EP from beginning to end superfluously: the trademark 1980's vigor. In a time before Nirvana, Y Fly 2 London succeeds at presenting the era with what it was most remembered for musically. "Just Say No" is quite an ironic title in that, when it comes to giving this EP a chance in your headphones, do yourself a solid and just say yes.
I-TUNES: https://itunes.apple.com/us/artist/y-fly-2-london/id962859206
By Erman Baradi