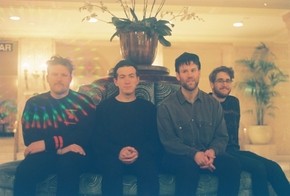 Taking inspiration from the psychedelic nostalgia of The Velvet Underground and The Zombies, and reinventing it into a more contemporary sound, Grounders have created a debut album that captures the true essence of what it means to be an emerging band in 2015.
GROUNDERS, consisting of Andrew Davis (vocals and guitar), Daniel Busheikin (keyboards), Mike Searle (Bass) and Evan Lewis (guitar) – will release their first full-length album this summer via Nevado Music, a collection of dense and intricate pop music under the gauzy veil of psychedelia and lo-fi pop.
"Where do you go? Waiting around, where do you go from here?" wonders the chorus of "Secret Friend," With a dreamy, reverb-drenched intro, the song drifts alongside layers of wobbly arpeggiated synth lines and space-age guitar melodies. It's the opening track, and it's also a fitting intro to GROUNDERS new self-titled LP. It shimmers and gleams, but there's a scrappy, stripped-back undertone that chips away at any polish. For every catchy hook and lush arrangement throughout the album there's a woozy counterpoint that keeps things slightly off-kilter.