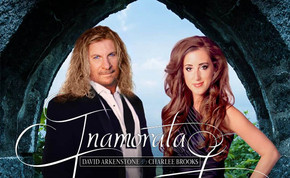 Hello there music loving people all overthe world. The weather here in New England has been so amazing I just could not be happier. We have got an incredible duo on today so lets get to some news and we can get to the interview. In concert & tech news, Live Nation and Uber announced a marketing partnership which will provide concert and festival goers an easy way to get to and from certain Live Nation events when riding with Uber. Uber services will be offered for 20 festivals throughout the year, 62 select Live Nation amphitheaters, clubs and theaters across the U.S. Festivals including the Electric Daisy Carnival, Faster Horses, Music Midtown, HARD Summer Music Festival, and more will be a part of this great program. In other news, NMPA President and CEO David Israelite released the following statement in response to Pandora's FCC waiver to proceed in purchasing a South Dakota radio station in order to pay cheaper royalties to songwriters. "In the history of the struggle between creators and those who try to profit off of their work without paying them fairly, this move by Pandora ranks as the most cynical and shameless. Sadly this small station in South Dakota has become a pawn in Pandora's game to pay the creators on which it built its business even less. Now, there can be no doubt that Pandora has declared war on songwriters." Now lets get to the new album by David Arkenstone and Charlee Brooks, 'INAMORATA.' If you are familiar with 'Game of Thrones' or 'Downtown Abbey' you hae heard this amazing music that David & Charlee have created. Join us as we speak today about how they came together, any romance beyond music, the best way to listen & enjoy this album, and so much more!
Stoli: Where are we talking from today and are you enjoying the warm weather?
David: Hi there!
Charlee: Hello!
David: We are currently talking from Laguna Beach, California and, yes, the weather is quite beautiful here.
Stoli: Offer us a brief history on how David Arkenstone and Charlee Brooks came together to form this incredible group?
Charlee: Back in 2010 I was working as a house engineer at the recording facility where Blizzard Entertainment was recording the underscore for the Cataclysm expansion pack (and various other projects). David and I met on those projects, as he was a primary composer. We worked together for months and ending up finding out we lived in the same city! We would frequently meet up and work on new music for no specific reason at all, and that is how our first collaboration Lovéren was born. The rest is history!
Stoli: How did you come up with the album name 'Inamorata' and how does it define your music on this album?
David: Charlee came up with the title after we started writing some songs and realized the direction that we were headed lyrically.
Charlee: Yes, the music was lush and romantic so Inamorata was an elegant way to put a face on the sound.
Stoli: Your music is so beautiful and Charlee's vocals give me the chills. Offer us some insight into how you work together from the songwriting to the actual recording?
Buy: http://www.amazon.com/Inamorata-Charlee-Brooks-David-Arkenstone/dp/B00RZDU9XS
David: With this record I started with some piano themes with the intention of keeping it somewhat cohesive. Then I turned it over to Charlee to create the lyrics and melody for each song.
Charlee: At that point I sat down and dug deep into my present, past, and future to come up with lyrics and titles for each piece. Lyrics that make you feel what you hear from the arrangement on its own. What type of feeling it evokes etc.
David: We rehearse them outside of the studio and once we feel comfortable with each piece we will go in and track 3-4 at a time. On this album particularly the vocals were cut in 2 sessions.
Stoli: I love your song "Beautiful Storm." What is that song about and when did you write that ballad?
David: We wanted to incorporate a few songs that were more uptempo, even though we love a good ballad! Since we were doing a more crossover pop record, we felt that something like Beautiful Storm could diversify the album a bit and add a different kind of excitement and intensity.
Charlee: As far as the song's meaning, this year I had met a certain someone that made my world come to life! As good as that sounds, having something like that happen can also be confusing. 'Beautiful' represents the feeling, 'storm' represents the fear of that feeling. This piece is kind of a breaking point in a relationship when you finally stop moving cautiously, enjoy your "now", and stop worrying about what the future holds.
Stoli: You too are very attractive and I must ask if there is any romance beyond the music that you make?
Charlee: Aww, thank you that was very sweet!
David: Although we might make a beautiful a couple (haha), we are actually just very great friends trying to make great music!
Stoli: How did you find out that you had created the – Main Title (From "Game Of Thrones") and how has that helped expose your music even more?
David: I enjoyed the television series and wanted to put a spin on that iconic theme. Hopefully some people have heard our version and it has drawn them to the rest our album.
Stoli: Your reviews on Amazon are all positive, how does that make you feel when you know the masses are loving your music?
Charlee: It is really very amazing the response we get from listener reviews. It makes us feel really connected to the listener. We have read many of them, and it always amazes us how detailed and in tune with our music some of the listeners are. You wonder during the production process if people are noticing those "little things" that you spend so much time on. And it seems they do!
Stoli: When you are not doing music what other activities do you enjoy?
David: I enjoy traveling, doing yoga and spending time at the beach.
Charlee: I second, third and fourth that!
Stoli: If you could suggest the best way to listen & get lost in 'Inamorata' would it be on vinyl, CD, MP3, streaming, etc?
David: I would say purchasing the CD is still the best option for a true listener because although mp3s are more accessible in many ways, you lose that tangible piece that includes the artwork and full lyric layout. It encourages listening to all of the tracks as opposed to one song which allows a fuller experience.
Stoli: What is coming up for David Arkenstone and Charlee Brooks and where are you @ online?
Charlee: We are currently are shooting a few music videos, so keep an eye out for those! We are very excited to share them throughout the rest of this year and further communicate our vision with beautiful imagery that our fans and listeners can have to accompany the music.
David: We also intend to possibly do some intimate live performances throughout the year. Those updates will be available on both our websites and Facebook accounts. Keep a look out for David Arkenstone's Symphonic Adventure! This filmed epic concert is currently airing on public television stations, and we're prepping the live concert tour for late 2015/16.
http://www.davidarkenstone.com
Facebook Artist Page: David Arkenstone
Facebook Artist Page: Charlee Brooks
Twitter:
@davidarkenstone
@brookscharlee