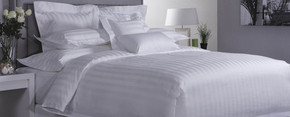 The items that your guests find in the rooms at your hotel can make or break their perception of they have of your establishment. If you want to be perceived as having high standards, you should invest in good quality sheets, towels and mats.
Keep your workplace dry with absorbent industrial floor mats. They can be used for rail road tracks, working areas with forklifts, and more which you can view and buy at Absorbents Online today.
Hotel sheets
High quality, luxurious bedding is defined by the following:
1. Color
The color of the sheets you choose can diminish or add to the feeling of luxury. White sheets are the symbol of high standard and luxury and any hotel that is striving to impress this upon its guests should invest in white sheets. All other bed linen should be white too.
White shows a hotel has high standards of cleanliness. Guests cannot guarantee that colored sheets are clean even if they smell clean, so white sheets and bed linen should be a hotel's way of communicating hygiene to the guests.
White also reflects light, adding more brightness to a room. Light makes everything in the room look upgraded and this has impact both on guest satisfaction and hotel margins.
White also denotes simplicity, a quality which allows a guest to unwind and forget all the complications of day to day life. This then makes guests to associate your hotel with a place where they can come to get rid of their worries.
2. Quality
A second most vital factor that your hotel should focus on is quality.
•Thread count
Choose sheets with a high thread count. Choose thread count depending on how much you are charging your guests per night. If you have a high price tag, you might want to go with a thread count of above 350.
To maintain your mark of quality, you should not go below a thread count of 300.
•Fabric
Most hotels buy sheets made of Egyptian cotton. Other fabrics that spell luxury and high standards are silk, satin, microfiber and cotton blends.
Hotel towels
It is a refreshing feeling for a guest to towel down with clean, soft, absorbent and fresh-smelling bath towels after a shower.
Just like bed linen, most guests have come to expect that a hotel with high standards should have white bath towels.
Below are some qualities of good quality bath towels:
• They have to be 100% cotton.
• Get towels with a looped surface because they are absorbent
• The towels should not shed. If you buy 100% cotton, you will not experience shedding.
• Bath towels should be large, at least 50 inches long and 30 inches wide.
• Do not forget to stock the bathrooms with hand towels, wash towels and salon towels of different sizes.
• Brand all towels with the name or logo of your hotel
• Follow precautions when laundering towels, to maintain softness
• Replace any towels that look worn out
Hotel mats
Mats can also serve as a statement of standards in your hotel. The color, texture, size and design of mats you choose should depend on the other design elements within the hotel.
The placement of mats will also depend on the area. In the rooms, for instance, there should be a mat by the bedside and the living area.
When choosing mats, you should work with an interior designer to achieve good flow throughout the hotel.
If you follow the above tips, your hotels will rate your hotel as having high standards.