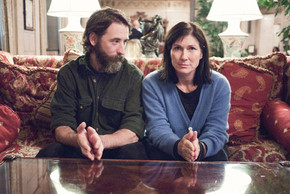 R. Ring is Kelley Deal and Mike Montgomery. It is voices, guitars and keys. It is sparse, chaotic, abrasive and lulling, often within the same song. It is new. It is, at the very least, a stark departure from the music they make in their other bands (Kelley with The Breeders and Mike with Ampline).
Kelley lives in Dayton, Ohio. Mike lives in Dayton, Kentucky.
R. Ring's 7″ split-single with Kentucky-based garage rockers Quailbones will feature the two respective songs "Singing Tower" & "A Tip to Trick the Tide" and will be released this July in 7″ vinyl & digital formats via Sofaburn Records. While this won't be available for a few months yet, R. Ring will be producing an extremely limited (100) handmade, custom-packaged version of it as a 12″ vinyl LP with screen-printed artwork just for thier upcoming tour.