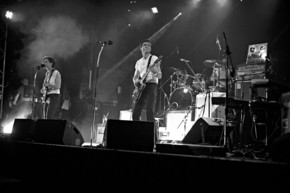 Formed by Jen Bailey and Rick Hornby a few years back, the group say it was a shared love of, "lost romanticism, soundtracks, 60's girl groups, 80's hooks, good footwear, attention to detail, and the darker side of classic British guitar pop" that brought them together, and such reference points are certainly audible in the material they've released so far.
The duo focus their energies on the symbolism within their music. Their tracks possess warmly crafted soundscapes and there is a great blend of drama and emotion. They light up the air with a breath of melodic warmth and magnetic harmonic energy, inviting you to move both your body and heart.
Following on from the success of their last single 'Control', TENFIVESIXTY return with a new release for 2015, 'Dashboard Light,' produced by Duncan Mills (The Vaccines, Peace) and mixed by international producer Robert Harder (Brian Eno, Herbie Hancock, Whitey, Squarepusher).
This is a fantastic project and one you should check out if you are fortunate enough to live along the tour route. I expect big things from this UK-based duo.
May 7 Seattle, WA
May 8 & 10 – Portland, OR
May 9 – Medford, OR
May 13 – San Diego, CA
May 14 – West Lake, CA
May 15 – Santa Cruz, CA
May 17 – San Francisco, CA
http://www.thetenfivesixty.com
http://www.facebook.com/thetenfivesixty.com