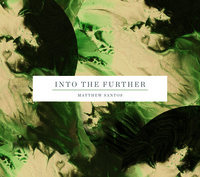 Into the Further is a refined work. Matthew Santos weaves the songs together. Arrangements are elegant complete with flourishes of folk, classical, jazz, and rock in a perfect blend. The pristine vocals and crystal clear production recall Grizzly Bear's magnificent work. Like Grizzly Bear the pieces are tastefully arranged. Not a single note appears to be out of place. Every song is woven together with the songs flowing off of each other. From the more active pieces to the quieter, more introspective work Matthew Santos tells a story.
Stream Into the Further here:
https://www.youtube.com/watch?v=i3stAzJ-j5w
The title track "Into the Further" introduces the album on a gentle note. From there Matthew Santos neatly arranges "Ojos" whose mixture of beat-boxing, classical mixture, and slight atmospheric guitar gives it a surreal feel. It isn't until the third song "Under the Microscope" that Matthew Santos reveals his voice among a blooming warm sound. By far the highlight of the album is the strong "Second Chances". For this piece Matthew Santos opens the song off very quietly as it builds up into a satisfying conclusion. Rather playful in tone "White Gloves" has a nimble rhythm that skirts between folk and jazz, never neatly settling into either category. Almost a whisper is the intimacy of "Field and Flower". Embodying an entire aural landscape is the tenderness of "Winter's Song". Bringing things to a crashing close is the hyperactive work of "And Now the Leap".
Matthew Santos's Into The Further is a graceful album that works best taken in as a whole.
https://www.facebook.com/matthewsantosmusic
Posted by Beach Sloth