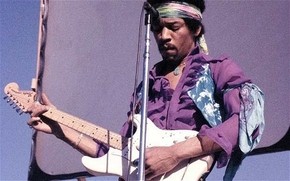 From Robert Johnson to Kurt Cobain, every epic guitarist had to start somewhere. While it may not sound like it, there was a point where your favorite musician didn't know how to play guitar. They were like you, in love with the idea but unsure how to commit. However, the day you buy your first instrument is when anyone becomes a serious musician. How do you get started?
Buying your first guitar is all about budget. While you don't need to own Jimi Hendrix's original 1968 Fender Stratocaster (currently estimated at two million dollars) to rock, a cheap instrument will actually inhibit your playing. When you're learning, you need to find your tone and train your ear to know what the right chords and tunings actually sound like. A well-made axe (now that you're a guitar player, you can totally call it that, by the way) in the $200-$300 range will have the clarity of sound you're looking for with workmanship that will last. Look for tried-and-true brands like Fender, Epiphone and Gibson who offer cheaper options, both electric and acoustic.
While you can always buy a guitar online or directly from your metal head cousin, it's advisable to head to your local music store. These shops offer the best variety of low-budget options and have an expert sales team to help you make the right choice. Plus, you get to spend a day strumming the opening chords to Deep Purple's "Smoke On The Water" while you try every model in-store. Keep in mind which hand is most dominant for you (leftie Kurt Cobain famously strung his guitar backward!), your ideal size and the aesthetic styles you're drawn towards. Rock n' roll is about a lot of things but looking cool is definitely one of them. Whether you go for a double flying V (probably not advisable for your first purchase) or a turquoise Fender Stratocaster, an awesome looking instrument is just another incentive to take it out and practice more often.
Play a variety of guitars standing up and down. Like any important purchase, it will ultimately come down to a personal feel. Your perfect first guitar should be easy to hold, not too heavy or light and have a clear, consistent tone without any odd hums or pops. Try it on the way you'd consider a great pair of shoes. It has to fit your body and compliment your sense of personal style.
Once you've narrowed it down to "the one," be sure to ask for a strap, pick, tuner, gig bag and a new set of strings. The best music stores will offer a warranty with their products. Long & McQuade is the largest musical retail chain in Canada with 63 stores coast to coast. They offer all their customers a free one-year performance warranty on all their guitars and specialize in all kinds of beginner models, both electric and acoustic. To check out their collection of Fender instruments and amplifiers, head to Long-mcquade.com/fender-guitars.
Whether you decide on a classic acoustic or shell out for an electric model with an accompanying amplifier and quarter-inch cable (save the fancy pedals for later, Thurston), you'll be that much closer to guitar hero status. Keith Richards once called rock n' roll "music for the neck downwards." Get ready for greatness with your first guitar!