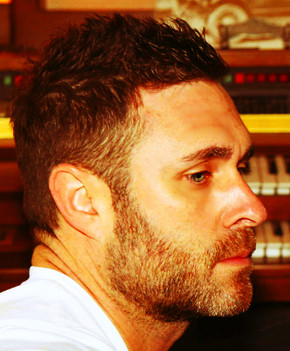 Hello there good people, we are back at it here today bright & early. We have got another awesome helping of fresh & inspiring music for you today. In music news though we have a lawsuit on behalf of artists and rights holders, SoundExchange has filed a lawsuit against Muzak, a wholly-owned subsidiary of Canada's Mood Media Corporation, for underpayment. This lawsuit arises from Mood Media's attempt to acquire new music services and pay for sound recordings at older, below market rates that were intended for a very limited set of companies. Looks like there are others like me that still ike to buy music downloads. Although music streaming is getting the biggest headlines these days, recent research from MusicWatch, a company providing consumer research for the music industry, indicates that consumers have not entirely given up on paid music downloads. In fact, one third of U.S. consumers purchased music downloads last year. Today we have an artist coming from Indiana by the name of David Barnett Thomas. David is handsome, talented, and just a real musician who digs deep. I caught wind of him by his single "Better" and when I saw the whole package I wanted to dig deeper. Join us today as David speaks on his love for music, his admiration for Aaron Lewis & Shawn Mullins, his upcoming EP, and much more!
Stoli: Where are we talking from today and are you excited for spring?
– I live in Northern Indiana. Granger, Indiana which neighbors South Bend and, most notably, The University of Notre Dame. I'm definitely excited for spring. We have had a ridiculously long winter up here.
Stoli: As the weather warms up here for us in New England I feel energized. How does the change in season effect you and does it make you more creative?
– It definitely gives me a boost in spirit and energy. I suppose it does give me a boost in creativity to a degree. The first nice day we had here this year inspired me to write a song about drinking and partying. The nice weather definitely makes me want to crack open a beer, sit outside, and strum my guitar.
Stoli: Offer us a brief history into how you got into music and do your family/friends support you on this journey?
– I got into music when I was about 8 years old as a drummer. My best buddy growing up, his dad, and I played in a 50's/60's rock band that really peaked my interest in music and introduced me to the high of performing. I stopped playing music altogether when I was about 14 as sports took over my life and I didn't play a lick until I went through a divorce at age 29. It was then that I needed an outlet and picked up a cheap acoustic guitar at the pawn shop and taught myself how to play. Just as I was doing that I had the good fortune to become acquainted with Brian Blush, writer/guitarist for the Refreshments (also, played with the Gin Blossoms after the death of Doug Hopkins). Brian encouraged me to start writing immediately and within 6 months I had recorded my first album with Brian Blush playing Bass and Lead Guitar on it. From there I played a lot of coffee house gigs for free or little to no pay, but loved playing the music I had written and doing covers in my own stripped down style.
That turned into starting a band with some other really good local musicians that was more heavy rock, both covers and originals. The band was called Two Times Tragic and we cut an EP called In Stone that was accepted decently on a local level. We played festivals and clubs for a little over two years locally and traveled as far away as Detroit, MI. We've turned that band into an acoustic cover band playing small bars and private parties and we are having a blast doing it. The set up is more simple, the crowds are more intimate, and it affords me time to spend writing and recording which has really become my passion. Performing is a blast, but I'm a creative person at heart, and writing and recording provides me the most satisfaction.
My family definitely supports my music. I'm a full time dad to two beautiful daughters, and they really enjoy coming to shows. My parents, who live here locally even like to make it out to see a few shows, although the music isn't necessarily their cup of tea. My dad has always told me "David, you're good at everything that makes you no money in life." He's definitely right about that with the music business! But, I think they like watching me perform and genuinely enjoy the cast of musicians I've surrounded myself with.
Stoli: You are a very talented man in various arenas. What drew you to pursuing music?
– Thank you very much. It's not easy to take that compliment because I feel like there is so much to continually improve upon. I have ALWAYS been affected by music on an emotional level. I can remember being a kid and hearing The Gambler by Kenny Rogers and just falling in love with that song. The Beach Boys, Buddy Holly, Roy Orbison, Johnny Cash, The Doors… etc, all left me wanting for more. Spending my young years playing 50's and 60's music just made me happy. When I was playing there was nothing else to worry about. It was just happy music that made me feel good. Then I was introduced to The Doors and that dark, emotional, "screw the world" mentality Jim had sucked me in and just seemed to fit for me. All of those feelings, my love for writing and creating, and the pure hatred I have for being trapped behind a desk lead me to pursuing music as a form of income. Plus, it doesn't suck to get attention from attractive women while on stage….
Stoli: Who are two bands/musicians that inspire you and that you listen to?
– Shawn Mullins is so inspiring to me. I love the rawness and simplicity to his music. Plus, his voice is just one the grabs me when I hear it. Also, his work ethic and continued pursuit of improving at his craft really inspire me. His song Lullaby, which was a huge hit in the late 90's, doesn't give an accurate idea of the Folk/Rock/Americana/Songwriter stuff he has put out since then. It's just brilliant and so incredibly easy to listen to. He's definitely my songwriting hero. I actually got engaged at a concert he played in Valporaiso, IN a few years ago. Ironically, he played his song Beautiful Wreck right afterwards… It turns out he's a soothsayer, as well. Shawn Mullin's-1… Engagement-0.
– Aaron Lewis of Staind is another favorite of mine. He's proof that a genre can't define a songwriter or musician. He can write hits in Rock/Hard Rock and then turn around and write incredible Country songs. And bonus, he can cover Tool with an acoustic guitar and make it mesmerizing. While I absolutely love Mullins, I really respect Lewis' ability to write radio friendly music in different genres. Much like Mullin's his voice and raw acoustic sound really draw me into his music. But, then he can write a song like Mudshovel and completely blow you away with a hardcore vocal performance and heavy electric guitars. Just an all around songwriter that I really admire.
Stoli: I just Liked your Facebook page for The Filthy McDavid's. How do you balance that band and your solo ventures or are they two in the same?
– They have been two in the same. The Filthy McDavid's generally just includes myself and Kevin Richmond (Two Times Tragic and Stereovain guitarist) playing acoustically. This summer will really kick off having gigs booked as David Barnett Thomas. I have a couple of festivals lined up locally and I will have a great list of musicians backing me up on stage. I'll play solo shows at local coffee houses and smaller venues, but really enjoy having Kevin accompany me and lending his guitar playing skills to any gig I have. So, when I'm playing locally I'll generally always have Kevin with me whether it's billed as David Barnett Thomas or The Filthy McDavid's.
Stoli: I love your song "Better." What inspired you to write that song and where did you record?
– Thank you very much. Better was written when I was dating a beautiful and incredibly nice girl who lives in California. I was in no shape to be in a relationship based on my own fears from past experiences, etc, but I was so drawn to her. We would spend hours on the phone and I just grew to like her more and more, but when it came time to actually go visit her I could just feel myself withdrawing. So, that's where the line "Maybe we're better from far" came from. I remember playing that for my band right after I wrote it and it was the first song where I could visibly see that they really really liked it. So, we practiced it a few times, Kevin wrote the really catchy guitar lead line, and we recorded that and produced it in the hallway of our dummer's house.
The acoustic version is available online for purchase at:
https://itunes.apple.com/us/album/better-acoustic-version/id947941076?i=947941081&ign-mpt=uo%3D4
http://www.amazon.com/Better-Acoustic-Version/dp/B00QKMGP4C/ref=sr_1_cc_5?s=aps&ie=UTF8&qid=1427410298&sr=1-5-catcorr&keywords=david+barnett+thomas
Stoli: If you were to make a music video for that song what would your vision be?
– My soon to be released EP has a song on it called "Love You Slow". It's a bluesy, sexy type song and I can visualize a very simple video of me sitting in an old chair in the woods with one female dancer in a white sun dress dancing in a very free spirited ballet style in circle around me. Almost like I am dreaming she is there and it would end in a way that is just shy of an NC-17 rating. It's like the Wicked Game video – but, version 2.0
Stoli: Your songs I find to be deep and mellow in tone & sound. Would you say that this describes your personality as well?
– Good question. I'm definitely "deep". I always dig beneath the surface for meaning in things that both I say and do, and what others say and do. In my opinion there is always an underlying meaning to things that may not even be conscious. I wouldn't say that I am mellow, though. I can be very manic, especially when it comes to songwriting. When I have an idea I won't stop until I get to a point where I'm comfortable knowing that I won't lose the idea. I'm also not outwardly emotional with most things, so my music is that outlet. It's also the reason why it takes me a good deal of time to release a song to the public. There's a lot of heart and hurt that goes into my writing and it is literally exposing my personal story in a lot of instances. I don't take that lightly at all.
Stoli: When you are not making music what other hobbies/interests do you enjoy?
– I enjoy long walks on the beach and eating Wheat Thins… Kidding. I enjoy camping and spending time on the water in the warmer months with my girls. I spend a lot of time playing and writing and the time I have to spend with them in an environment where everything in my brain is turned off, is so important to me and, ultimately, important to my girls. I also enjoy watching baseball, NFL football, and just relaxing at home. I've spent a lot of time in bars over the past few years playing gigs. It's nice to just kick back and relax when I have the time.
Stoli: How do you consume & listen to music these days whether radio, TV, streaming, YouTube, etc?
– I definitely download 99% of the music I listen to. I have not spent much time with the Pandora's and Spotify's that are out there. Youtube is great for live performances. I love watching live performances of the artists/bands that I follow. I love seeing the energy and emotion that an artist puts out during a performance. For instance, if you heard a Shawn Mullins song on the radio you might brush it off. But, if you watch him, you will actually feel the song. It sounds so corny, but it's absolutely true.
Stoli: What is coming up for David Barnett Thomas and where you @ online?
– Currently I am playing venues in Northern Indiana and Southwest Michigan and trying to finish up the recording process. I should be getting a near final mix back from the studio on April 9th and will then start the process of fully marketing it to the TV/movie industry, labels, and for airplay. I've had some initial interest already from a film for two of the songs. But, everything is on hold until I get that final mix and I cannot wait to have that in my hand. I'm currently looking at June 27th as my public CD release, which will be at Summerfest in Mishawaka, IN, which is the area's largest free music festival.
You can find my past work as well as some new ideas and information about me at:
http://www.DavidBarnettThomas.com
http://www.reverbnation.com/davidbarnettthomas
https://www.facebook.com/DavidBarnettThomas