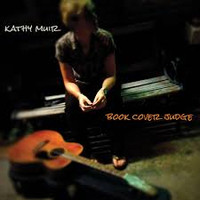 Who doesn't like poppy singer-songwriter music? I'd bet all hands go up in the air. I mean, while bluesy singer-songwriter, which by the way kind of emerges in the late 60's and 70's with the arrival of Bob Dylan, Cat Stevens, Elton John and Billy Joel, represented a close and personal artistic snapshot from the artist in question. The music tended to be at times gripping and more powerful. Many feel this amazing, and powerful singer-songwriter sound has lost it's way evolving into overly commercialized, highly corporate songs that do a better job at getting under your skin rather than pour into your heart.
Despite this introduction most music fans can't deny getting into an artist that literally grabs you and refuses to let go until the song or album has ran its course. This is exactly how I would describe Kathy Muir. Muir is originally from the UK but now resides in Connecticut. She just released her latest work entitled "Book Cover Judge". "Book Cover Judge" is exceptional music and multi-dimensional to say the least. With a distinctive voice and lyrical style that combines a blend of acoustic and pop influences infused with a hint of blues, Kathy brings a unique spectrum of songs to the stage. The music is as unconstrained by artistic boundaries as the woman herself. As a young teenager growing up on Edinburgh's south side, Kathy loved to sing Sunday hymns or 'songs', as she preferred to call them, at her local church. The music itself is uplifting, thought provoking, interesting and striking to the ears (in a good way). It also however possesses a smooth bluesy rock style that is sort of compatible to the traditional mold of the classic singer-songwriter style. I can hear Michelle Branch, Dido, Vanessa Carlton, Anna Nalick, Kate Voegele and Jewel. Just listen to marquee tracks like "You and Me Both", "Lover's Eyes" and "Back to You" and you'll begin to see my perspective. I got hooked on Muir after the first few moments of Track 1 "Head Down". I do hate to pigeonhole but if you like any of the above artists and Paula Cole, Annie Lennox and
Tori Amos you will love this release.
Criticism: CD sounds a bit dated reminiscent of Pop popular 20= years ago. As much as I admire Muir I think she should modernize her sound sounding more like say – Lana Del Rey
Once again the main focus of this genre of music is generally the personality of the artist, here In this intimate environment Muir wins you over without even trying. Her amazing lyrical content never feels like an afterthought. What's more the vocal work and impeccable songwriting from Muir really brings it all together. All in all it's a powerful combination that puts an artist like Kathy Muir on the map for 2015 as she heads out on tour. She should go a long way towards proving that real music is still alive and well.
Buy "Spirit" CD – https://itunes.apple.com/us/album/spirit/id835096010
Official URL: http://www.kathymuir.com/
Evan Gardiner