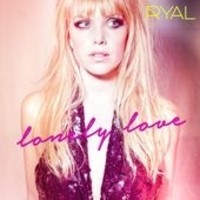 Some might say the best singers are born. They are letting their voice go from early in life in choirs, music classes, and around the home as a prelude to future careers. Ryal, onetime singer for Strip Darling, is one of those singers. Raised in Colorado and the San Diego area, Ryal participated in Christian-themed musicals authored by her mother. Her mother had a publishing deal that enabled them to tour those productions nationally thereby giving young Ryal her first taste of performing for a vast cross-section of audiences.
She began composing her own songs as a teenager and, when she moved to New York City to attend The American Music and Dramatic Academy, began performing on the club scene. She quickly gained a small following before manager Rocco Giordano first spotted her. Her tenure with Strip Darling soon followed, but after a period, Ryal increasingly felt like her musical direction needed shaking up. She hit upon the idea of writing more upbeat, poppier material that appealed to wider audiences and afforded her the chance to express herself in a new way.
One of the results from her new direction, "Lonely Love", touches on some of the melancholy of her earlier music, but the music has all of the positive energy and youthful attitude that Ryal is aiming for. Strong backing vocals support her well, but it merely strengthens an otherwise fine vocal from Ryal. Her sensitive singing is the track's highlight and blends well with the live drumming and discreet guitar fills. The keyboards carry most of the melody and crescendo beautifully at crucial points in the song.
Ryal is a powerful force in the pop world because she isn't merely product. Instead, one finishes listening to this song believing that the pop backing isn't there to help make money, but rather as a honest expression of her musical vision. This is well-produced pop music and worth any positive attention it receives.
8 out of 10 stars.
DOWNLOAD: https://itunes.apple.com/us/album/lonely-love-single/id966923634
Montey Zike