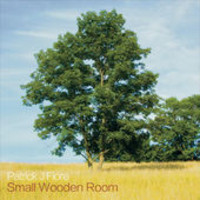 Patrick J. Fiore is a male Acoustic-Pop based artist from Pennsylvania. This might just be the perfect locale to explore the refined pop realm of musical expression. His latest album "Small Wooden Room" is a witty-truthful collection of melodic rock that reveals all the a-typical conventions of Acoustic Pop and Singer-Songwriter Folk thus creating a solid yet catchy album. The first track "Soul Sister" is an impressive kickoff statement. It does a great job of starting things off and gets one ready for what's around the corner, which in itself presents a stunning 12 track line-up. As the album slowly runs the gamut it has much to offer in the way of melodic music and captivating vocals that make the listener feel like they're watching someone play live via an up close and personal musical setting. Musical comparable for me include artists like Mat Kearney, Rob Thomas, Eric Hutchinson, Matt Wertz and Tyler Hilton. Also I can hear Pop embellishments like from Phillip Phillips, Rob Thomas and Train. One cannot help but admire artists with strong songwriting skills and truthful conviction all the while demonstrating a strong a level of creativity. One senses a growing ambition as this album advances. Fiore's appealing vocals and guitar playing and "on the mark" songwriting leave a lasting impression and with intellectually stimulating lyrics provide a very real and powerful source of inspiration overall. Fiore is one of those artists not afraid to put his toe into the truthful side of the pool shall we say. Some songs give you a sense of growth-wisdom and progressing maturity. The musicianship (Guitar, Voice and vocal sonic effects) pulls out all the stops, and the overall production value tows the line. All in all a great set of songs.
Notable standouts for me include: One Heart, Bless the Man, Again and Bless the Man
If you want a soothing to the soul via an easy-going Acoustic pop-rock staple there's something on this record for you. Obviously many will identify with Fiore and yes he has a good lean young Italian look, and perhaps this is what fans will like about him. Having said that this CD is for almost anyone as it caters to modern pop-folk listeners. Some of this plays into strong marketability. Some pieces present more modern sounding overtones but despite the flavor there are still traditional Rock n' Folk textures from earlier eras. This is really what makes "Small Wooden Rooms" so enticing to me personally – very intimate and personal. This is where the truly talents artists can strut their stuff.
In this aspect Patrick J. Fiore is an impressive artist, and also grants you rare access to peer into the tormented soul of a gifted artist – from his soothing and soulful perspective shall we say.
Final Rating: 8/10
URL: http://patrickjfiore.com/
Purchase Link: http://www.cdbaby.com/Artist/PatrickJFiore
Gerald Hope